Clear. Simple. Friendly.

You work hard to keep your practice running right and offering the services your patients need. We know, because we've been there. ClearCorrect™ was founded back in 2006 by a dentist who had over 400 patients that needed to finish their clear aligner treatment, but no one to make the aligners for them.
So Dr. Willis Pumphrey went the extra mile for his patients: he founded his own company to make aligners for them. One by one, other dentists signed up to try Dr. Pumphrey's solution, and ClearCorrect started to grow. Today, ClearCorrect has served tens of thousands of dentists all over the world and has delivered literally millions of aligners to their patients. Through it all, we've made it our priority to listen to our providers, and to put their needs first. That's what's kept us in business for over 12 years, and that's how we know we'll always be here.
Attractive and accessible

With a strong price/performance ratio and smart training options, ClearCorrect makes aligners accessible to more dentists and patients.

Founded by doctors

Dentist-friendly by nature, ClearCorrect has been listening to dentists and collaborating with them to create solutions they love since 2006.

Quality: born in the USA

Engineered in the USA with care and pride at our Center of Excellence in Texas, ClearCorrect aligners are made from material optimized for stress retention and clarity while resisting stains and cracks.

Top-notch support

Dealing with us is easy-going and uncomplicated. We offer real, human service from fully committed and highlytrained support specialists who go the extra mile to help dentists succeed.
Precise Engineering
Every piece of manufacturing and diagnostic know-how that ClearCorrect brings to bear in making clear aligners is based on our personal experience and research, and on the real-life feedback from our doctors. Every lesson is one we've learned first-hand through an iterative process that we improved piece by piece, and continues to improve each and every day.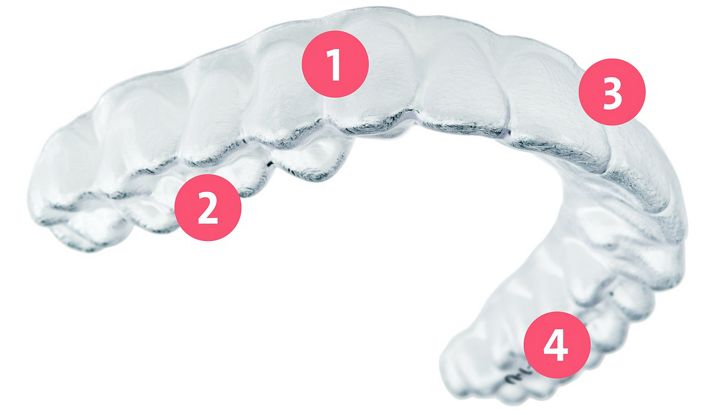 1. .030" Polyurethane
supports trimline to achieve challenging movements
2. Stain & Crack Resistant Material
tested thoroughly
3. Hand-checked for Quality
to help ensure a great aligner, every time
4. Laser Marked
to ensure traceability
Proven to optimize retention
ClearCorrect aligners feature a smooth, unscalloped trim line that extends past the gingival margin. Research shows that aligners trimmed with this technique are significantly more retentive than scalloped aligners, which can reduce the need for  attachments. Fewer attachments means the aligners fit the teeth tighter, and that means better aesthetics, which means happier patients.
Source: "The effect of gingival-margin design on the retention of thermoformed aligners" by Daniel P. Cowley, James Mah, and Brendan O'Toole in the Journal of Clinical Orthodontics: JCO 11/2012; 46(11):697-702.
ClearCorrect case studies:

Published results of ClearCorrect cases.
Don't go it alone

With ClearCorrect, you've got a partner for success and education
Your style
Whether you're new to clear aligners, or looking for ideas and tips to boost your practice, we offer several options designed to fit a wide array of learning styles.
Your tools
When it comes to scanners, we don't play favorites. We love intraoral scans, and we'll accept them from any major scanner on the market. They're fast and easy for us to process, which means you can get your cases started quicker while avoiding the messy impressions.
Your choice
Choice is sweet. ClearCorrect treatment: as much as you want, as little as you need. With ClearCorrect, you can submit a case for free and see exactly how many steps are planned in our mobile-friendly 3D treatment setup. Then you can choose Flex, and pay per aligner, or choose Unlimited: one flat rate for five full years of aligners and retainers. Either way, for any number of steps, it's your choice.
FLEX: Just what the doctor ordered
Get the exact amount of treatment you need – no more, no less – and only pay for what you use.
Flex is great for simple aesthetic corrections, singlearch treatment, and minor orthodontic relapses. Particularly, it works well for doctors who have experience with clear aligners and have a good feel for how they move teeth.
UNLIMITED: Worry-free for five full years
Pay one flat rate for as many aligners and retainers as you need for five full years, including revisions and replacements.
ClearCorrect's Unlimited option is ideal for comprehensive treatment, long term retention, and minimizing unexpected expenses. If you're a doctor who's not too familiar with how much treatment you need, Unlimited is always a safe bet.
Your patients
Patient monitoring options (Straumann DenToGo) lets you keep a closer eye on your patients ClearCorrect treatment, so you can treat patients more efficiently. 
Take the next step
Get started with ClearCorrect today.