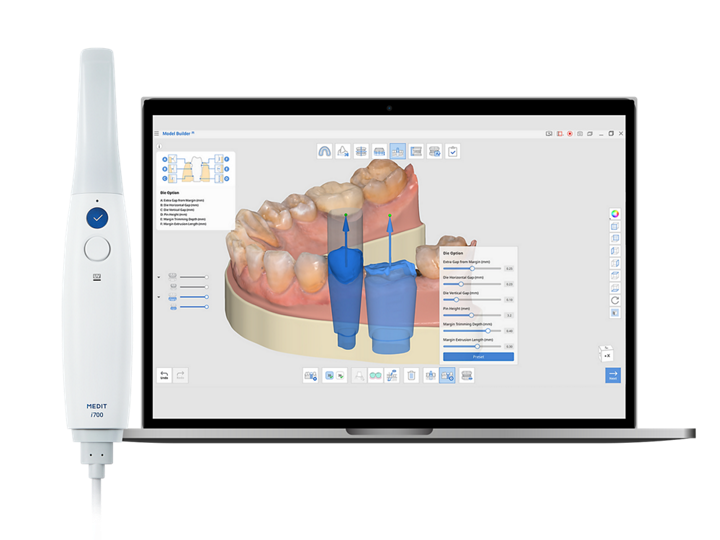 Intraoral Scanners for Implant Dentistry
A door opener for #GoingDigital
Intraoral Scanners for Implant Dentistry
Working with the Straumann Group as your partner of choice, you will have access to not only a range of intraoral scanners for data acquisition, but also to an integrated ecosystem covering all stages of the implant treatment workflow for a time-efficient and frictionless experience that delivers predictable outcomes. Investing in an intraoral scanner  allows for: 
- Accurate digital impression taking
- Increased treatment acceptance with patient engagement apps
- Time efficiency with direct connection to your laboratory partner
- Opening doors to the next steps of the implant treatment workflow with seamless integration, counting on in-house or outsourced capabilities
In-house Digital Workflow
Our in-house range of solutions include cost-effective, efficient, and easy-to-use hardware, starting with Intraoral Scanning. Dentists, lab technicians and patients – they all benefit from a digital workflow that saves time and allows more time for communication and patient care.
Outsourced Digital Workflow | Smile in a Box™ 
Focus on your passion - we take care of the rest! Smile in a Box™ is a digital, modular treatment planning and manufacturing service to cover your surgical and prosthetic indications. You select the services you want, and we deliver everything you need for your treatment in one box. It allows you to enjoy the benefits of digital dentistry and an integrated planning service. You can conveniently access the Straumann Group portfolio, centralised resources and digital workflow without investing in additional hard- or software.