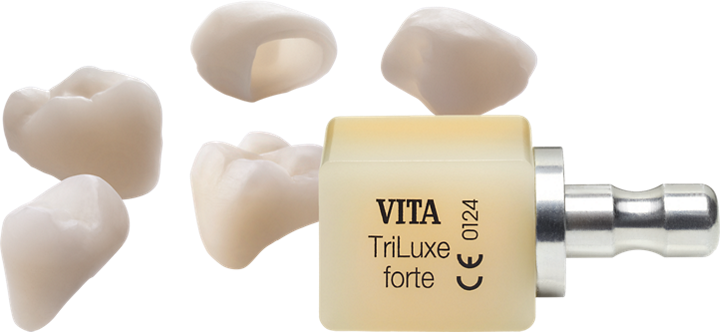 VITABLOCS® TriLuxe forte
Multi-layer fine structure feldspar ceramic manufactured by VITA Zahnfabrik H. Rauter GmbH & Co. KG.
Esthetic, tooth-colored feldspar ceramic with integrated shade gradient to reproduce the natural play of color.
NATURAL PLAY OF COLOR

The tooth shade gradient is already integrated in the block and allows the digital reproduction of the natural play of colors. VITABLOCS® TriLuxe forte feature four layers of different shade intensity.

EFFICIENCY

VITABLOCS® TriLuxe forte restorations allow fast processing, as they can be directly polished and placed after milling.

HIGH-QUALITY MATERIAL DESIGNED FOR PREDICTABLE RESULTS

This second generation of VITABLOCS® has proven itself a million times over.
Featured stories on youTooth