Straumann PURE Ceramic Implant – now available as a two-piece solution
Flexible prosthetics, nature-identical aesthetics
A clinical case report by Christoph Hesse, Germany
Ceramic implants made of zirconia with a microrough surface have long been proven in practice and confirmed in studies. This allows users to respond to the growing demand for metal-free restorations with safe treatment options. Dentist and oral surgeon Dr. med. dent. Christoph Hesse, Dachau, is a pioneer of the PURE Ceramic Implants from Straumann; in a discussion with Dr. med. dent. Aneta Pecanov-Schröder from ORALE IMPLANTOLOGIE he explains the advantages of the new two-piece fully zirconia ceramic implants with special surfaces and illustrates their use with a case study.

First published in ORALE IMPLANTOLOGIE 4/18, with courtesy of Zahnärztlicher Fach-Verlag GmbH, Herne.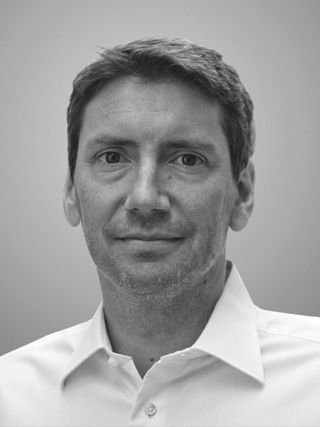 Christoph Hesse
DMD
Dr. Christoph Hesse set up his referral practice in Dachau as an oral surgeon in 1999. After his degree in dentistry at the Julius-Maximilian University in Würzburg, he initially worked as an assistant in Franconian Rieneck and then finished his advanced training as a specialist for oral surgery (1996–1999) in Singen in Hohentwiel (Baden-Wuerttemberg) and Puchheim (Bavaria). He did his PhD in 2001 and qualified as a specialist for implantology at the EDA in 2006 with a focus on periodontology, and qualified as a specialist in endodontics in 2008.

This two-piece design of the reversible screw-retained Straumann-PURE-Ceramic Implant with an intraosseous diameter of 4.1 mm for routine practice is new; what is not new is the experience gained from practice and the knowledge from studies on fully ceramic PURE implant lines, on which the two-piece system is based.
From monotype to two-piece system Straumann officially launched the PURE Ceramic Implant in 2014 for the ITI World Symposium, initially as a monotype. At the time it was developed, insights and knowledge from a seven-year development process flowed into the design, as did 60 years of experience in the construction of implants and material innovation [1]. The tooth colored implant meets the increasing demand for completely metal-free restorations with nature-identical dental and mucous membrane aesthetics [7, 11, 15, 17], allowing a fully ceramic implant prosthesis, for example in patients with a thin gingival biotype and a high smile line [2, 9, 10, 12, 18].
The further development to the two-piece ceramic implant was initially presented at the IDS 2017. Thus, Straumann has delivered on its notification [14] to follow up its one-piece fully ceramic implant with a two-piece reversible screw-retained version to give the user more flexibility in prosthetic restorations. "It also lets me be more flexible, because with the internal connection of the ceramic implant there is still the option even after years to replace the prosthesis without damaging it", explains Dr. Hesse, who has been an enthusiastic user since 2013, and has implanted some 300 PURE Ceramic Implants. "Where there are gaps with limited space, the one-piece ceramic implant is the best option because it has a smaller diameter with an intraosseous diameter of 3.3 mm.
"A match made in heaven" - Bone Level and Tissue Level with the tried and tested surface topography

The two-piece ceramic implant with ZLA surface is the result of almost twelve years of development. Like the monotype, it is made of 100 percent high-performance zirconia ceramic (yttrium-stabilized, tetragonal polycrystalline zirconia, Y-TZP). Zirconia implants are biocompatible and have a low rate of widespread peri-implantitis [16]. Study groups report that plaque accumulation at an early stage is lower on zirconia implants compared to titanium implants [13]. 

The ZLA ceramic implant surface is characterized by macro- and micro-roughness, which is similar to the topography of the proven SLA surface (sand-blasted, large-grit, acid-etched). Animal studies have shown osseointegration equivalent to Ti-SLA in terms of peri-implant bone density and BIC value (bone-to-implant contact) [2, 9]. The SLA surface is one of the best documented rough surfaces in implantology and, due to its osseointegration properties, reduces the ingrowth time of implants [3, 5]. Studies show a much-improved accumulation of fibroblasts on the ceramic surface and good soft tissue grafting is therefore expected [5, 16, 17, 19]. Given that "the biofilm on ceramic implants appears to be less harmful, ceramic implants could be an advantage especially in patients who have been treated for periodontitis, with better long-term survival rates", Dr. Hesse continues.
"Naturally, the data available is not comparable with the data from titanium implants. Just in terms of the osseointegration and durability over the course of three years, there is no difference between titanium and ceramic" [4]; this is also the outcome of a multicenter clinical trial after an observation time of twelve months, with an implant survival and success rate of 97.6 percent [9]. The form of the two-piece PURE Ceramic Implant is based on characteristics of both the Soft Tissue Level Standard Plus and the Bone Level Implants: "I see this as an ideal combination", explains the experienced implantologist. "With titanium, I use the tissue level, but now enjoy the stability of the bone level thread form. What is especially fascinating is that you can use the same instruments for ceramic implants as for titanium implants", explains Dr. Hesse. 
Strength

The ceramic implants currently available on the market are made of active substances based on zirconia with different chemical modifications (sintering, mixtures with other metal oxides and hydroxyl apatite, among others) and surface designs. The composition can affect the stability of the ceramic implants and crack growth, the most common cause of fracture in full ceramic implants. According to the manufacturer, tests on the static breaking strength according to ISO standard 14801 show a significantly higher resistance to crack growth than ceramic implants from other suppliers. To avoid potential problems with material fracture in ceramics, every implant is tested before delivery [8].
According to the manufacturer, forces are applied that exceed the maximum strength of the human jaw, and only implants that pass this test are supplied to the dentist. The reliability of the implant was clinically confirmed in a multicenter study where there were no implant fractures after a 24-month follow-up period.
Case study
After a general periodontitis treated by the family dentist, a 57-year-old patient was referred to Dr. Christoph Hesse's practice. The patient's general medical history was unremarkable. The patient was dissatisfied with his chewing function and upper jaw aesthetics, and teeth 25 to 28 were missing. Tooth 27 was removed in 2016, and tooth 25 under the periodontal therapy in 2017. The patient expressly wanted a metal-free restoration of the free end with ceramic implants; at his request a titanium stimulation test was performed, showing a slight immunological hyper-reactivity to titanium oxide particles.
A DVT was produced to assess the bone situation. The implant could be inserted without bony augmentation. In March 2018, two PURE Ceramic Implants (two-piece) with a diameter of 4.1 and length of 10 mm were inserted in regions 25 and 27 without navigation. Here the new ceramic implants were implanted with the known surgical cassette using the likewise established surgical procedure with a largely identical protocol.
The healing took three months and was submerged. The ceramic implants were then exposed and treated at Dr. Christoph Hesse's practice in August 2018 with a full ceramic bridge and prosthetic implant. The zirconium framework was constructed and milled using CAD/CAM and veneered with Creation Zi-CT leucite crystal containing feldspar ceramic (Willi Geller).
Conclusions for clinical practice
With full ceramic implants made of zirconia with special surface characteristics, users can take account of the wishes of their patients and offer them an alternative to titanium implants. Both the one-piece and the two-piece PURE Ceramic Implants have been tried and tested in practice and have yielded excellent outcomes in studies.
A clear benefit of the zirconia implants with a ZLA surface is the biocompatibility and the positive response to peri-implant tissue ("This could be an advantage in patients who have undergone treatment for periodontitis", explains Dr. Hesse. Straumann PURE Ceramic Implants also score extra points thanks to their very good mechanical and aesthetic properties. Users should generally speaking explore ceramic as a material and should follow the specific protocols, so as to avoid, for example, microfissures caused by milling that would then reduce the breaking strength.
"Instrument synergies at Straumann PURE Ceramic Implant make it easier to introduce or switch to ceramic implantology, and there is no need to buy a full set of new instruments", Dr. Hesse explains from experience. For the future he hopes that the prosthetic components for the implant line will be expanded further, "so there is an integration in the "Pro Arch" concept with immediate treatment of four implants".
Dr. Hess is already convinced that "as the prosthetic components increasingly diversify, the material ceramic will evolve from a "niche product" to be at least on an equal footing with or even surpass titanium, if the long-term results confirm the positive trend".