Straumann® Pro Arch
First international symposium on full-arch rehabilitation: "The Modern Harmony"
By Dr. Amin Motamedi, Iran
In late November 2018, together with a Straumann Group subsidiary in Iran, we organized the first international symposium in Tehran, Iran, on the topic of full-arch rehabilitation. "The Modern Harmony" symposium was a great success, with more than 124 participants, including senior professors of implantology, who shared their knowledge and expertise. We successfully performed two live surgeries and delivered a number of high-quality lectures on full-arch rehabilitation.
This event helped us to broaden the reach of our communication, sharing our experience with international dental clinicians outside Iran who were interested to learn about the Pro Arch treatment concept. Currently, I am organizing the first Pro Arch course in Kerman with live surgery and hands-on experience.
Straumann supported the organization of this educational event on full-arch rehabilitation and I was honored to serve as the chair.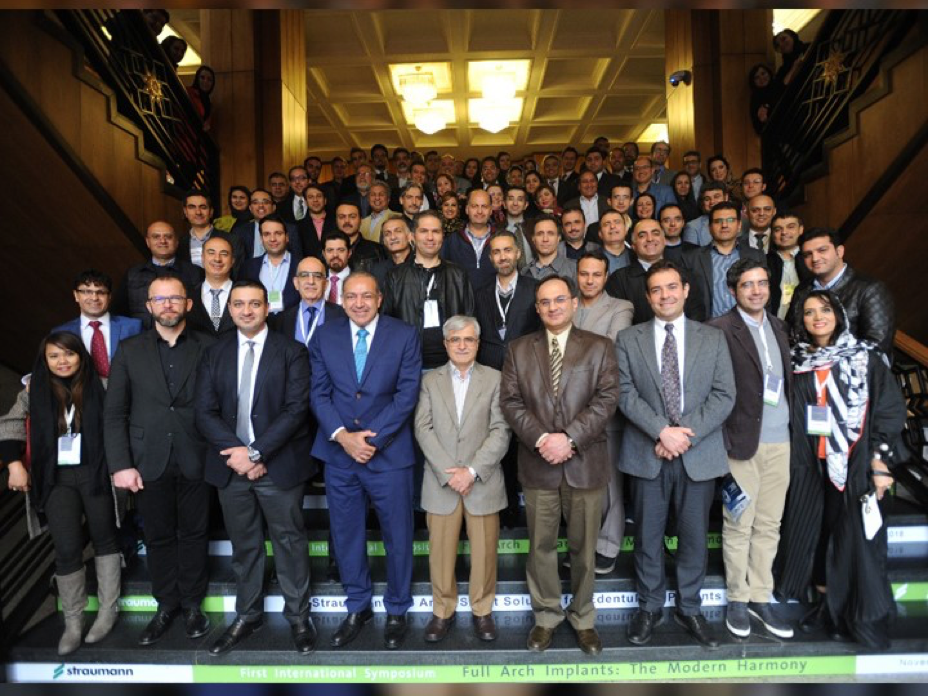 Amin Motamedi
Dr
Dr. Motamedi received his Doctor of Dental Sciences Degree (DDS) and Master of Science in Periodontology from the Shahid Beheshti University of Medical Sciences in Tehran, Iran. A few years later, he completed a fellowship in "Laser Therapy in Dentistry" at the Aachen Dental Laser Center (AALZ) and The RWTH Aachen University in Germany, and a mastership program in Implant Dentistry at the Global Institute for Dental education (GIDE) at the University of California in Los Angeles (UCLA), USA. He has served as the Chair and Post-Graduate Program Director in the Periodontics Department at the Kerman Dental School and as the Chair of the Scientific Committee at the Symposium of Comprehensive Implant Treatment Planning. Currently, Dr. Motamedi owns Dr. Motamedi Dental & Implant Clinic, which is a Straumann Pro Arch Center of Advanced Education in Iran.
Why a symposium for full-arch rehabilitation?
I saw the symposium as a great opportunity for many clinicians. We all face the same challenges in the treatment of edentulous patients and patients with failing dentition, and this event presented us with an excellent opportunity to share knowledge and experience within the community.
In 2017 I was introduced to the Straumann Pro Arch concept, and it immediately grabbed my attention. This is a systematic approach to treat fully edentulous patients with customized solutions. Each patient is unique, and clinicians need to have a variety of therapeutic options available, taking into account different clinical situations and patients' preferences. The immediate loading protocol for fully edentulous patients offers a very efficient treatment procedure supported by high-performance Straumann implants and prosthetic components. This treatment has changed the atmosphere of my whole practice. My patients are very satisfied, and I was excited to facilitate the organization of this event and to share my experience with colleagues and peers.
What made the event so successful?
Renowned national and international speakers, who are experts in the field of implantology, facilitated very objective and open discussion sessions.
Guests included senior university professors and influential expert implantologists, making the event a key opportunity for clinicians to network. The live surgical operations at the venue demonstrated the treatment in real-time, which was very much appreciated by the participants. They were very positive and enjoyed the face-to-face interaction during the Q & A session after the lectures and the live surgery sessions.
After the symposium, I received many questions, mainly with regard to the prosthetic solution. Clinicians are very interested in this concept, but they need to be acquainted with the trustworthy treatment protocol. We discussed all incoming questions with colleagues in person and online. I am very active on social media on this topic; it is an ideal platform to share and discuss my Pro Arch cases.
Until now, the biggest challenge for clinicians in the immediate treatment of edentulous patients is that it demands a team approach involving the restorative clinician, surgeon and the dental lab to achieve a successful outcome. I have been sharing my experience on how to facilitate the team approach.
Mission accomplished
With 124 participants, the attendance for such a specialized topic was higher than expected. We received very good feedback on the program, both during and after the event. We also attracted the attention of the national TV, radio, prominent newspapers and news agencies. We conducted an interview that was broadcast on the national TV news, and were interviewed by the leading main radio stations.
We fulfilled our key objective of sharing knowledge, best practice and experience within the dental community, and we are very excited about the future of full-arch rehabilitation in Iran. For all clinicians who are interested in the modern full-arch treatment solutions and Straumann Pro Arch, we can provide support with training and mentorship at the Motamedi Dental & Implant Clinic. Both are essential for introducing new techniques and treating more patients in need.
Next steps – First courses in Kerman, Iran
To this end, the first Pro Arch course in Kerman with live surgery and hands-on experience for clinicians is scheduled for October 17-18, 2019. Clinicians who are interested in participating can contact me directly (info@motamediclinic.com). In the near future we will organize two further courses: one on advanced immediate rehabilitation on December 20, 2019, and we will start the New Year with the advanced GBR and sinus augmentation course on January 30, 2020.
I am very positive about the future of immediate rehabilitation in Iran, as I see a lot of interest from both clinicians and patients.  I am looking forward to the launch of the new BLX system in Iran, which will provide an additional tool for immediate cases.
For more info, go to https://www.straumann.com/proarch.html