"The ITI is a vanguard in many respects"
An Interview with Charlotte Stilwell, president elect of the ITI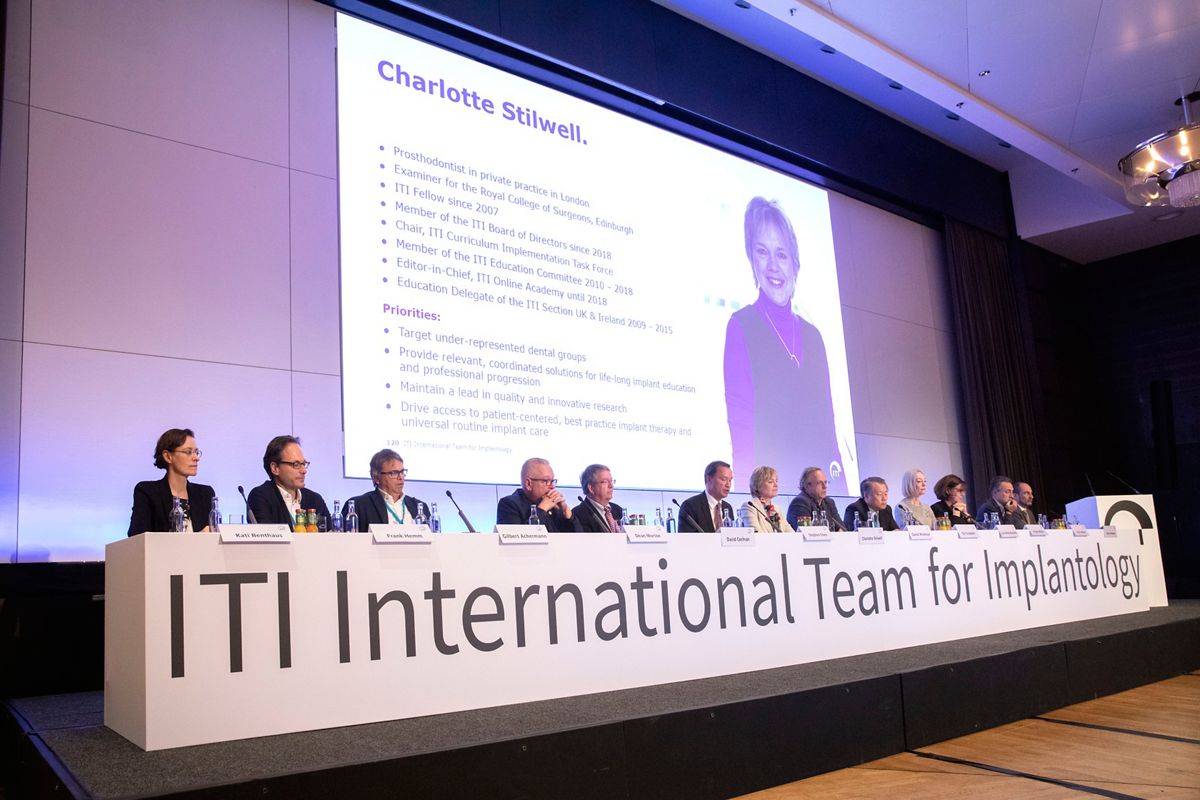 Almost four decades after its foundation, the association shows its unbroken progressiveness by electing a female president from outside the university structures. More than ever, the future success of the ITI will be based on equal consideration of the needs of patients and practitioners.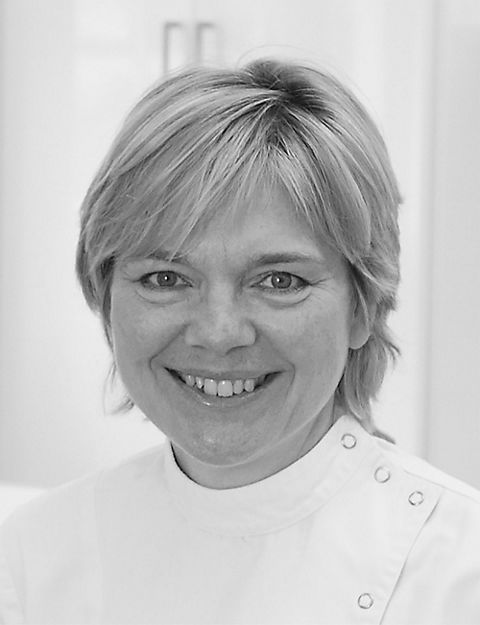 Charlotte Stilwell

Danish, born in Copenhagen. Graduate, Royal Dental College, Copenhagen 1983. Specialist in Prosthodontic Dentistry, General Dental Council, UK 2000. Royal London Medical Dental School 1983-1988. General dental practice 1988-1995. Private referral practice 1995 to date. Senior lecturer, University of Geneva Dental School, 2015 to date. Editor-in-Chief ITI Online Academy 2014 to date. Member Education Committee since 2010. Examiner in Implant Dentistry, Royal College of Surgeons, Edinburgh 2013 to date.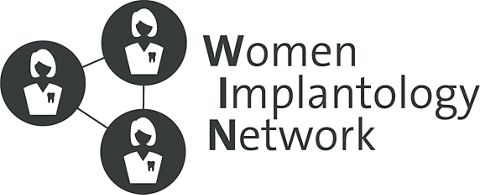 "believe in your dreams. Be determined, because yes – you can!"
We are a global network of dental professionals committed to embody, embrace and harness the power of gender diversity. With a majority of women graduating from dental schools, but only a minority of them becoming active in implantology, patient access to implant therapy is at risk.
Our mission is to engage women in implant dentistry and to empower them to achieve their ambitions. How do we achieve it?
Raising awareness

Offering networking opportunities

Keeping WIN members on top of implant dentistry

Offering mentorship for advancing in leadership roles in academia or private practice
Visit www.straumann.com/win   
join us on Facebook www.facebook.com/StraumannWIN/
Charlotte Stilwell – you are the new president elect of the ITI, the first major organization in implant dentistry to have a female president! What does this mean to the field?
A female president clearly means that as of now both women and men with the required background and experience are considered eligible to lead an important organization. ITI is obviously a vanguard here and sends a very positive signal. Hopefully, this will serve as an important example and be an inspiration to the many women entering dentistry: we can and must be adequately represented in this discipline to both provide and maintain implants.
For many years, you have been strongly involved in teaching within the ITI. In what way has this influenced your election?
I believe that my designation as the future president also demonstrates the open-mindedness of ITI on a level other than gender equality. As you know, I have not followed the classic university career path and therefore bring to the organization a perhaps more practice-oriented approach to tackle the future challenges. It often is exactly a favorable combination of practical experience and scientific knowledge that brings the most significant progress.
"Both women and men with the required background and experience are considered eligible to lead an important organization."
How do you see ITI's future orientation – can we expect even more diversification and progress than is already seen with your election?
Next year, ITI marks its 40th anniversary, and the organization has already planned openings in many directions. ITI is showing its understanding of both the patient's needs and those of the dental professional. Implant dentistry is a team discipline, and we want to become the major source of knowledge and education also for all the other players who contribute to implant success, be it general practitioners, specialists, hygienists or dental technicians.
This sounds like quite a dynamic evolution indeed – we have moved on considerably from the early beginnings when a group of 12 experts founded the organization in 1980.
Absolutely, the ITI membership is constantly growing and already exceeds 18,000, and given the enormous wealth of knowledge acquired within this organization, we have a responsibility to disseminate this expertise to whoever needs it at a global level. By the way, the 2020 ITI congress will take place for the first time in Asia, and we look forward to welcoming over 6,000 attendees to this unique rendezvous.
"Given the enormous wealth of knowledge acquired within the ITI, we have a responsibility to disseminate this expertise to whoever needs it at a global level."
What new goals are you personally going to set for the ITI?
I think that the ITI has already chosen a very promising path. The current president, Dr. Stephen Chen, as well as his predecessors, have continuously improved and adapted the orientation of this organization. With our ITI Curriculum program, the ITI is completing the educational circle of information, services and tools, and we are all set to provide a broad offering of a consistently high standard to the whole dental implant team. We will ensure that all specialties involved in the clinical workflow are duly represented and integrated in the ITI organization – we want to be the preferential partner of all these stakeholders.
Strengthening the team aspect of implantology will definitely even increase the attractiveness of ITI. What other aspects will you focus on?
I believe that we need to continue to evolve our solutions for life-long implant education and professional progression. ITI has a proud history of setting the standard for research and education in implant dentistry, and we naturally want to further consolidate our leadership. Last but not least, I see a need for more clearly defined treatment guidelines and an even increased patient focus of these therapy standards. Implant provision today is such a widely distributed treatment choice that it has become more crucial than ever to teach and share best practice procedures. In the interest of the patients, the non-specialist must also have access to knowledge about universal routine implant care.
"We will ensure that all specialties involved in the clinical workflow are duly represented and integrated in the ITI organization."
You are also one of the founders of WIN (Women's Implantology Network). What changes does WIN really make in the field?
Women professionals are clearly an under-represented group in implant dentistry. Today, women dentists globally represent 50-70% of the new graduates, but this very strong trend is not yet reflected in their engagement in the discipline of implant dentistry. WIN is acting locally as well as globally, and we are already raising the awareness of this imbalance. Visibility is the first important step to change the situation. WIN wants to motivate women dentists to seek the necessary education to provide implant therapy themselves, and of course also to care for and maintain existing implants. WIN is helping women to progress in all aspects of our discipline and is aiming to create role models and female leaders for others to follow. To promote this development, it is not only providing networking opportunities and education but also specific support through mentoring.
WIN and ITI are working very closely together – can you elaborate on this collaboration?
There are clear synergies between the WIN and ITI missions. Both are building reliable networks for dental professionals and providing quality education in implant dentistry. Safe, predictable and evidence-based treatment is the core philosophy of both organizations, and a strong patient focus is an additional common point. And as women emerge from surveys as particularly risk-conscious and empathetic, this treatment approach is almost a natural choice for them. So ITI and WIN have shared principles, it is therefore only logical to cooperate and create synergies. As a direct example of the collaboration, WIN membership offers access to educational content in a dedicated WIN classroom on the ITI Academy. And to invite WIN members to further explore the benefits of a full ITI membership, they receive a 20% discount for the first year.