Legendary innovations
Straumann® is the global gold standard in implant and esthetic dentistry. We stand for premium Swiss quality, precision and innovation delivering confidence in dentistry, backed by the largest global scientific network. Let's push boundaries to enable the next generation of dental care.
Come to the Straumann lounge and see our innovation highlights:
Excellence in immediacy with BLX and Pro Arch BLX 


Digital solutions for an immediate digital workflow

Esthetics with ceramic implants and biomaterials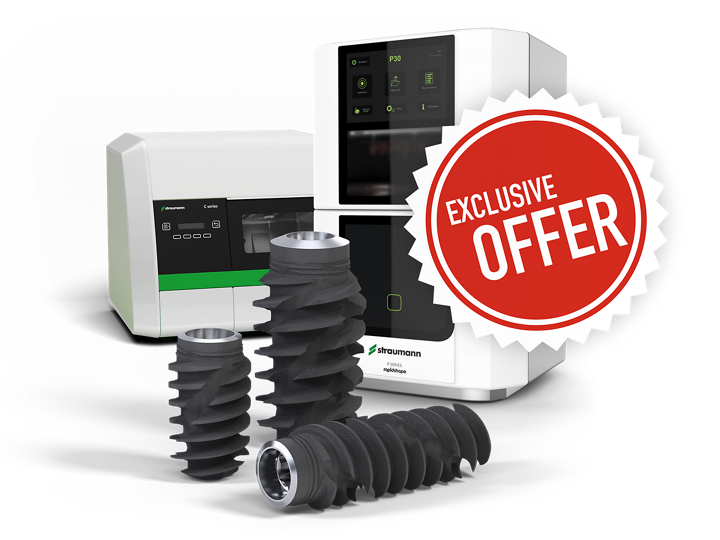 Exclusive Offers
In line with these highlights, we have created exclusive offers for EAO participants and only valid during the congress:

Starter offers for BLX, PURE, Biomaterials and Emdogain Flapless

Discounts for Intraoral scanning with Virtuo Vivo™ and 3Shape Trios®

Discounts for chairside milling with Straumann® CARES® C series

Discounts 3D printing with Straumann CARES® P20+, P30+, P40
Ask at the booth for all offers.
Corporate Forum: Program
Straumann Corporate Forum - Achieving predictable clinical outcomes in immediate implant protocols. Appropriate planning and innovative techniques
Friday, September 27th, 2019 | Room 6 
17:15 - 19:15
Immediate implant protocols have revolutionized implant dentistry as they offer a variety of benefits for patients and help clinicians treat specific indications, especially in the esthetic zone. 
During this corporate forum, world-renowned speakers presented successful immediate treatment concepts for different reconstruction modalities, from single tooth restoration to full arch rehabilitation using the Straumann® ProArch® solutions. The innovative techniques for hard and soft tissue management was also be presented. Particular attention was paid on the appropriate treatment planning, as well as selection of the most suitable components based on patients' unique clinical situations.

Straumann Live after EAO Congress
Straumann has live-broadcasted the Corporate Forum as well as three exclusive EAO channel sessions directly to social media. You can review all of them on this page.
Corporate Forum Reviews:
Friday, Sep. 27 @ 17.15 - 19.15 (see details above)
EAO Channel Reviews:

Thursday, Sep. 26 @ 12.30 - 12.50: Stefan Röhling on PURE Ceramic Implant

Friday, Sep. 27 @ 15.00 - 15.20: Edmond Bedrossian on Straumann® BLX
Saturday, Sep. 28 @ 12.30 - 12.50: Filippo Graziani on Straumann® Emdogain® FL

Submit your details to receive the Straumann EAO 2019 Digest.