Tehokkaaseen implanttien ylläpitohoitoon1-5
Tehokkaaseen ja hellävaraiseen hammasimplanttien pintojen puhdistamiseen*

Ylläpitää hammasimplantin terveyttä1-3, 6-9
Hammasimplantin mukosiitin ja peri-implantiitin hoitoon ja ehkäisemiseen, tukee hammasimplanttien terveyttä

Lisää mukavuutta potilaalle verratuuna perinteisiin menetelmiin
Potilaalle mukavampi ja hellävaraisempi hoitomuoto verrattuna Ti-kyrettiin 2,5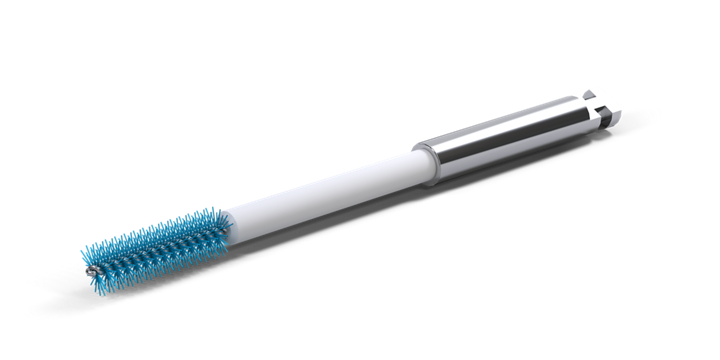 Labrida BioClean®.
Kliinisesti tutkittu ratkaisu tehokkaaseen biofilmin poistamiseen hammasimplanttien pinnoilta.

Labrida BioClean®  on suunniteltu osseointegroituneiden hammasimplanttien ja/tai hampaiden (ientaskun syvyys ≥ 4mm) puhdistamiseen. Labrida BioCleanin®  kuidut on valmistettu kitosaanista, jolla on bakteriostaattisia ja tulehdusta estäviä ominaisuuksia. Nämä on dokumentoitu tieteellisesti. 10-12

Chitosan - bacteriostatic,
anti-inflammatory and resorbable.

The bristles of the Labrida BioClean™ brush are made of chitosan. Chitosan is partly deacetylated chitin from shrimp shells. The chitosan used in Labrida BioClean™ is extracted from a sustainable and exclusive source - the shell of the cold-water shrimp Pandalus borealis.
Chitosan
has documented bacteriostatic and anti-inflammatory properties10-12

is a non-allergenic marine biopolymer

is biocompatible and resorbable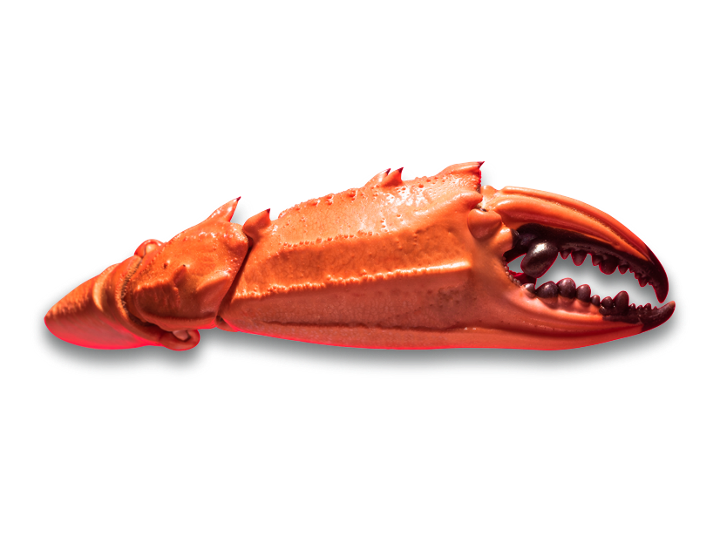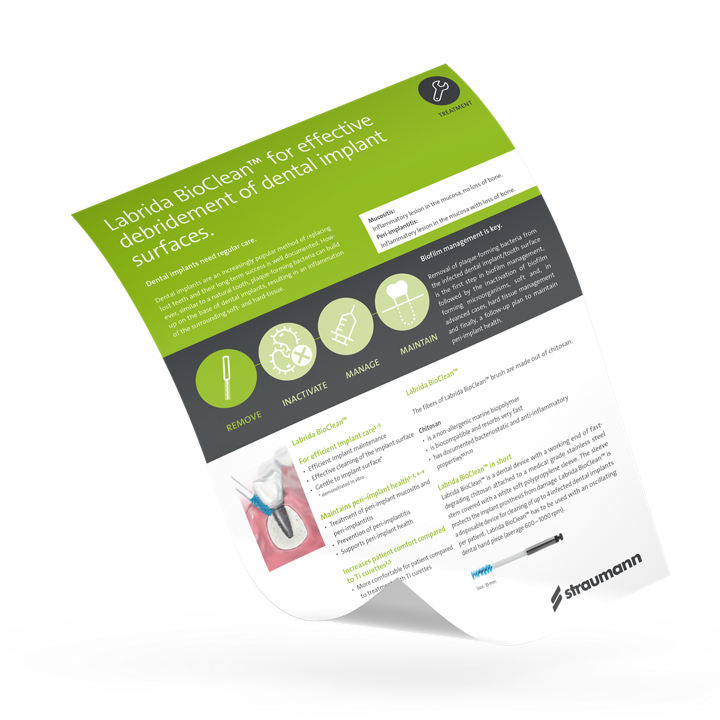 Lataa Labrida BioClean® Quick Guide

Lue lisää Labrida BioCleanista, käyttötavoista ja indikaatioista.

Hammasimplantit tarvitsevat jatkuvaa ylläpitohoitoa.

Hammasimplantit ovat yhä suositumpi, sekä hyvin tutkittu ja tieteellisesti tutkittu hoitomuoto puuttuvien hampaiden korjaamiseksi. Aivan kuten normaaleihinkin hampaisiin, hammasimplanttien reunoille voi kerääntyä plakkia muodostavia bakteereja. Tämä puolestaan voi johtaa tulehdukseen implanttia ympäröivissä pehmyt- ja luukudoksissa.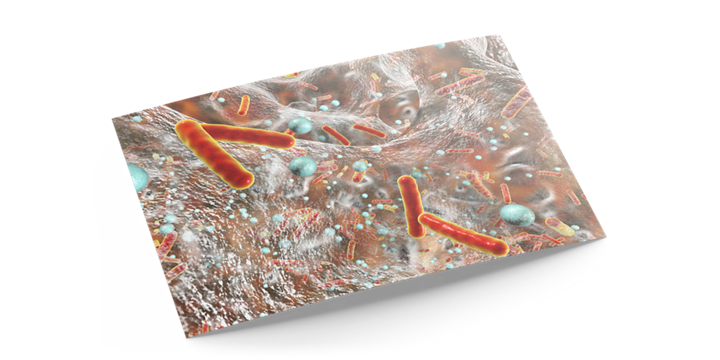 Biofilmin hallinta on avainasemassa.

Plakkia muodostavan bakteerin poistaminen tulehtuneen hammasimplantin/hampaan pinnoilta on ensimmäinen askel biofilmin hallinnassa, jonka jälkeen biofilmiä muodostavat mikro-organismit inaktivoidaan, pehmytkudosta ja vakavissa tapauksissa luukudosta muokataan, ja lopuksi laaditaan ylläpidon hoitosuunnitelma hammasimplantin terveyden ylläpitämiseksi.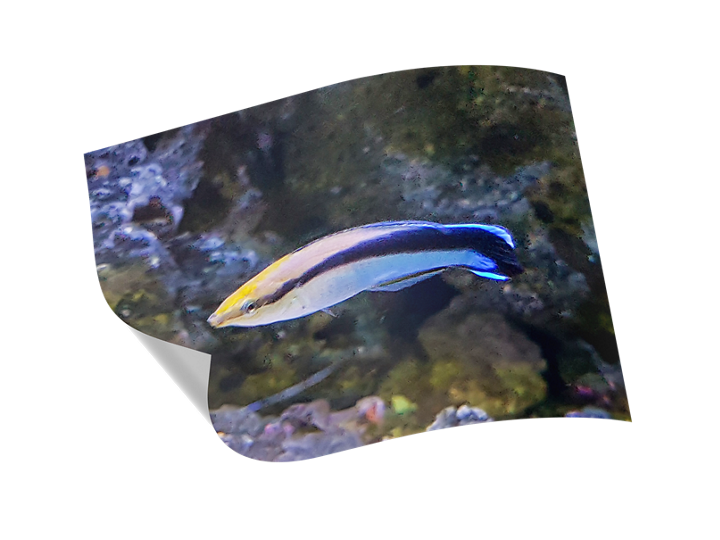 Kitosaani – bakteriostaattinen,
tulehdusta ehkäisevä ja resorboituva.
Labrida BioCleanin® harjakset on valmistettu kitosaanista. Kitosaani on osittain deasetyloimatonta kitiiniä katkarapujen kuorista. Labrida BioCleanissa®  käytetty kitosaani saadaan kestävästi tuotetuista ja tarkoin valikoidusta lähteestä - kuoret ovat peräisin kylmänveden Pandalus borealis -katkaravuista.

Kitosaani:
sisältää dokumentoidusti bakteriostaattisia ja
tulehdusta ehkäisevia ominaisuuksia 10-12

on ei-allergeenista meribiopolymeeria

on biologisesti yhteensopiva resorboituva.
Check out Labrida BioClean™ on youTooth

Implant Health. Fit for life.
Straumann Groupin Implant Health, eli terveet hammasimplantit, on kokonaisvaltainen palvelukokonaisuus, joka on suunniteltu peri-implantiitin ennaltaehkäisyyn, diagnosointiin ja komplikaatioiden hoitoon.

Haluatko kuulla lisää? Ota yhteyttä implanttiterveyteen perehtyneeseen aluepäällikköömme.

Suvi on aina valmis vastaamaan kysymyksiin ja auttamaan. Jos olet uusi Labridan käyttäjä, voit varata esittelytapaaminen Suvin kanssa. Voitte yhdessä käydä läpi Labridan hyödyt ja indikaatiot. Labrida on hyvä lisäys hammaslääkärin ja suuhygienistin instrumenttien valikoimaan.
Ota yhteyttä ja selvitä, onko Labridasta sinulle uusi työkalu vastaanotollesi!