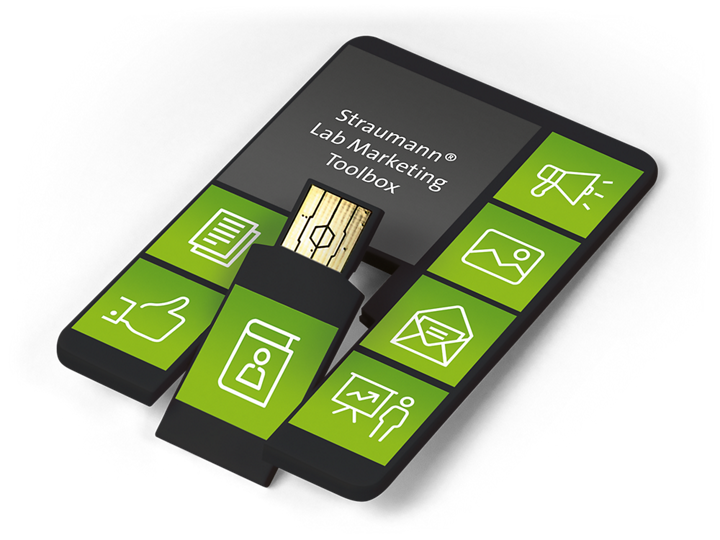 Straumann® Lab Marketing Toolbox 

Give your lab an edge. Leverage your competence.
Your lab is built on competence, professional know-how and an excellent service portfolio. Dentists and patients depend on your skills. We help you leverage those skills to win new customers and to retain those you already have. The Straumann® Lab Marketing Toolbox helps you communicate your lab's strengths and expertise across a variety of channels, easy and efficiently. Focused on getting you up and running faster, the Straumann® Lab Marketing Toolbox is designed to create the interest you deserve.

eBook

Contains the latest methods and tools for planning your marketing campaigns on your online and offline channels.

Mailings

Take advantage of regular customer contact by using our comprehensive set of convenient and adaptable mailing templates.

Image library

An image says a thousand words. Straumann® provides you with images that reflect your professional competence and services and speak to your target audience.

Online media

We help you create dynamic, rich media to use online, whether on your website or social media. Keep your customers engaged with meaningful visuals and information that reflect your core strengths and skills.

Email blasts

Keep your clients up-to-date on your services and offerings. Our set of customized email blast templates and banners enable your lab to promote its expertise and services quickly and easily.

Social stream

Direct and immediate contact makes social media a significant market force. Ours set of ready-to-post social media episodes lets you easily and effectively promote your lab on social media channels.
Not available in all countries. Service offering can be different in each country.