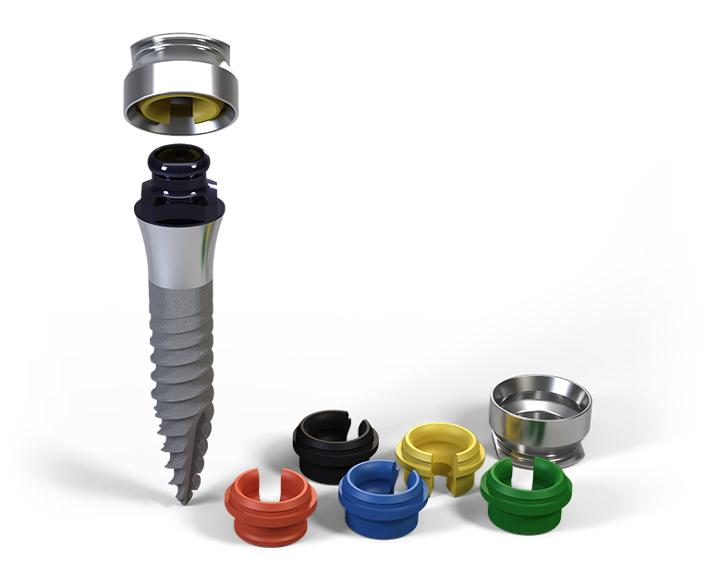 Straumann® Mini Implant System

Mini Implant. Maximum trust.

Smiling, laughing and eating naturally add to a quality of life that every edentulous patient would love to main­tain. Now you can provide edentulous patients presenting reduced horizontal bone availability with a less invasive*, immediate removable fixation of their overdenture. You and your patients can rely on a trusted brand, premium quality and long-term scientific evidence. Less invasive* treatment plans, faster healing and less post-operative discomfort can help to overcome many patient doubts.
Roxolid® – Proven quality

Higher mechanical strength compared to titanium.1 The successful use of Roxolid® has been documented in numerous clinical trials with up to 5-year follow-ups.2 Lifetime Guarantee, our quality and longevity statement!

SLA® – Long-term scientific evidence

High and consistent survival rates.3–9 Very low prevalence of peri-implantitis.9 Average bone loss of 0.5 – 1 mm after 10 years (baseline defined as implant loading time).4-5


Optiloc® – Durability & efficiency

Reduced maintenance. Excellent resistance to wear. Space-saving design.

Less invasive

Less invasive treatment plans (faster healing and less post-operative discomfort) can help to overcome many patient doubts.
*if GBR can be avoided
References
1 Bernhard N et al., (2009). Forum Implantologicum 5(30).
2 http://www.straumann.com/science-roxolid.html
3 Fischer K, Stenberg T.: Prospective 10-year cohort study based on a randomized controlled trial (RCT) on implant-supported full-arch maxillary prostheses. Part 1: sandblasted and acid-etched implants and mucosal tissue. Clin Implant Dent Relat Res. 2012 Dec;14(6):808-15.
4 van Velzen FJ, Ofec R, Schulten EA, Ten Bruggenkate CM,.10-year survival rate and the incidence of peri-implant disease of 374 titanium dental implants with a SLA surface: a prospective cohort study in 177 fully and partially edentulous patients. Clin Oral Implants Res. 2015 Oct;26(10):1121-8
5 Cochran DL, Jackson JM, Bernard JP, ten Bruggenkate CM, Buser D, Taylor TD, Weingart D, Schoolfield JD, Jones AA, Oates TW Jr. A 5-year prospective multicenter study of early loaded titanium implants with a sandblasted and acid-etched surface. Int J Oral Maxillofac Implants. 2011 Nov-Dec;26(6):1324-32.
6 Cochran D, Oates T, Morton D, Jones A, Buser D, Peters F. Clinical field trial examining an implant with a sand-blasted, acid-etched surface. J Periodontol. 2007 Jun;78(6):974-82.
7 Bornstein MM, Schmid B, Belser UC, Lussi A, Buser D. Early loading of non-submerged titanium implants with a sandblasted and acid-etched surface. 5-year results of a prospective study in partially edentulous patients. Clin Oral Implants Res. 2005 Dec;16(6):631-8.
8 Roccuzzo M1, Aglietta M, Bunino M, Bonino L. Early loading of sandblasted and acid-etched implants: a randomized-controlled double-blind split-mouth study. Five-year results. Clin Oral Implants Res. 2008 Feb;19(2):148-52.
9 Derks J, Schaller D, Håkansson J, Wennström JL, Tomasi C, Berglundh T. Effectiveness of Implant Therapy Analyzed in a Swedish Population: Prevalence of Peri-implantitis. J Dent