A solution from Straumann means satisfaction guaranteed.
A solution from Straumann means satisfaction guaranteed.
Effectively navigating in a world of ever-changing technologies, business models and patient behavior is critical to your success. By anticipating trends and seamlessly integrating products, protocols and services, Straumann offers unique solutions to handle complexity. We help you create new business opportunities, while reducing costs and increasing patient treatment acceptance rates.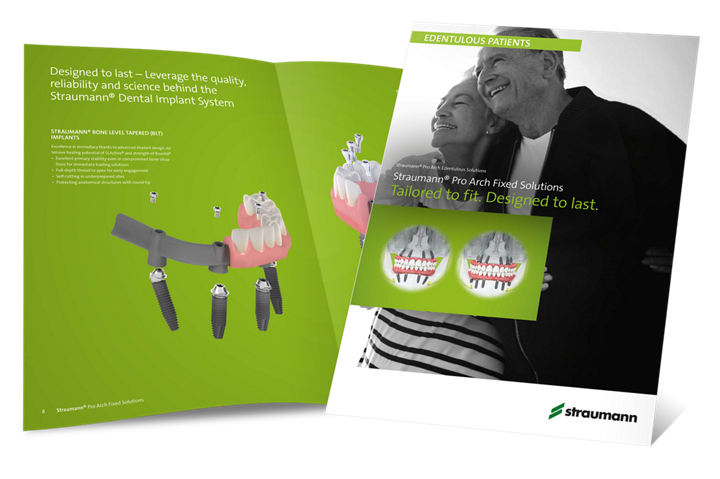 Until recently, people with severely damaged teeth had no alternative than to have them extracted and wear conventional dentures held in place either by suction or adhesive. Wearing dentures brings functional limitations and reduced self-confidence and wellbeing. Straumann® Pro Arch is a comprehensive solution that includes a broad range of implants, abutments, CAD / CAM frameworks, bars, bridges and other components that enable clinicians and dental technicians to provide fixed, full-arch tooth replacements.

Provides the flexibility to address individual needs by leveraging the unique Straumann® Roxolid® material
High predictability even in challenging cases thanks to the Straumann® SLActive® surface
Considerable time-saving compared to standard implant treatment using bone augmentation procedures, with the option of immediate temporization
Increased capabilities with a comprehensive prosthetic portfolio
STRAUMANN® PRO ARCH: MORE THAN A FIXED PROSTHESIS. A BETTER QUALITY OF LIFE WITH A REASON TO SMILE.