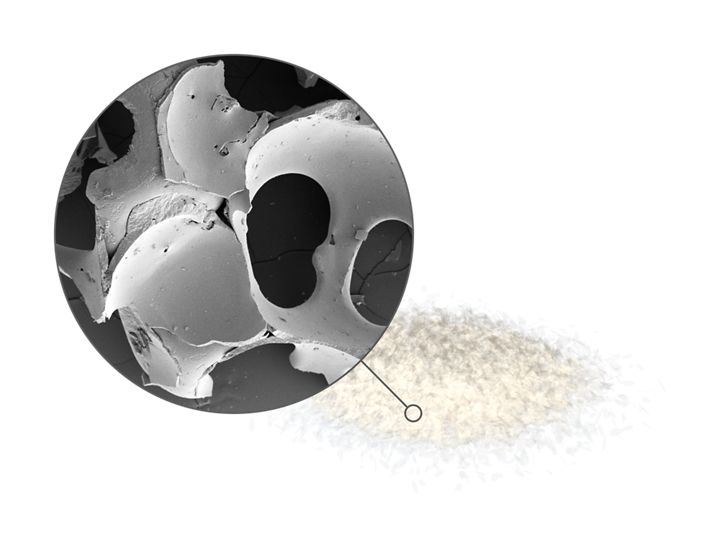 Straumann® BoneCeramic

Building the foundation for success.
Straumann® BoneCeramic® is one of the best documented alloplastic bone substitutes on the market, offering a state-of-the-art scaffold with controlled resorption for vital bone regeneration without compromising on volume preservation. With its slow and controlled resorption properties and its homogenous composite of HA and ß-TCP (60/40%) it is an excellent choice for you and your patients in virtually any clinical situation. Since it is fully synthetic, the quality is consistent and reproducible. It has been used in more than 300'000 implant-borne dental restorations around the globe. 


Handling

Mixes well with autogenous blood, bone or saline. Retains liquids, facilitating quick and extensive wetting of particles with blood. Adheres to application instrument. Nicely conforms to the bony defect.


Morphology

Optimized 90% porosity designed to promote vascularization, osteoblast migration and, subsequently, bone deposition. Its high porosity and minimum amount of material leave maximum space for new bone.


Safety

Consistent and reproducible sterile biphasic calcium phosphate, fully synthetic and biocompatible. Batch-to-batch consistency. Zero risk of disease transmission.


Biofunctionality

60% hydroxyapatite (HA) is a strong matrix for long-term bone volume preservation, preventing excessive resorption and preserving the bone volume. 40% ß-tricalcium phosphate (ß-TCP) for rapid initial bone-forming cell response for faster resorption and replacement by natural bone.


Evidence

More than 300'000 dental implant-related procedures by clinicians around the globe. 55 PubMed listed publications in many different indications, confirming efficacy and reliability.