Complete Practice Management Software

for all major functions of a dental practice.
March 28 | 4 p.m. PST / 7 p.m. EST
 
Growing Your Practice Post-pandemic
See what CareStack can do for your practice

Introducing CareStack, the all-in-one cloud-based solution that exceeds the needs of modern dental practices. CareStack can book appointments, create treatment plans, send appointment reminders, streamline collections, provides intra-office communication, and so much more!

Centralized, Cloud-Based Scheduling, Charting, Billing, Patient Engagement & Reporting

All-in-one dental software: One complete solution to manage everything - Appointments, treatments, claims, payments, patient communication, reporting and more.
Used by practices of all sizes: Used by more 2,000 dentists and 150 multisite groups / DSO's to centralize, standardize and optimize office workflows.
Easy to learn and use: Easy for any staff member to learn and use regardless of their practice management experience.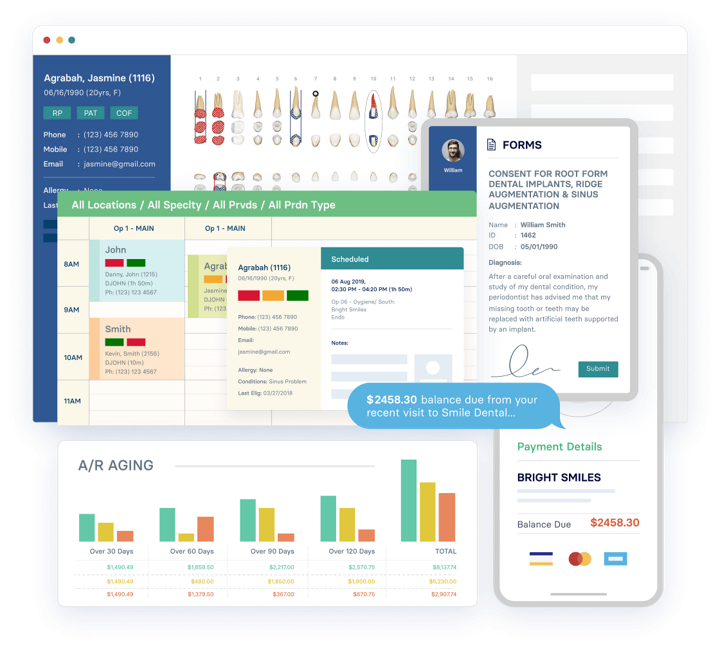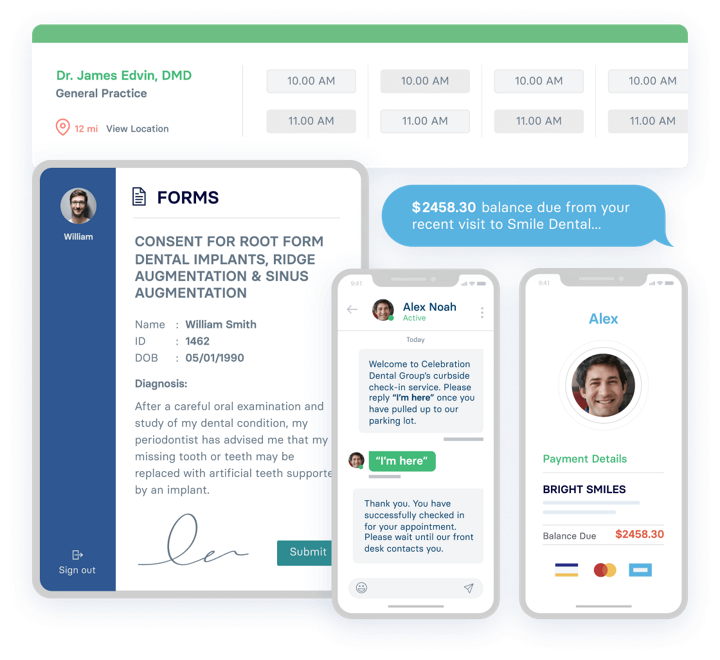 Unparalleled Patient Experience

Online scheduling: A new patient appointment is scheduled online, straight from your practice's website.
Digital forms: Send digital forms via text or email to patients and collect demographic information, medical history and patient consent.
Curbside check-in: Patients can confirm their arrival at the practice through text and automatically check in while waiting in the safety of their vehicle.
Automated Patient Communications & Marketing

Automated communications: Send automated appointment reminders based on patient preferences - via text and/or email to reduce no-shows and last minute cancellations.
Reputation management: Build your reputation online by automatically collecting and posting reviews on social media.
Two-way texting: Patients can interact with practice staff and receive answers quickly through two way text messages.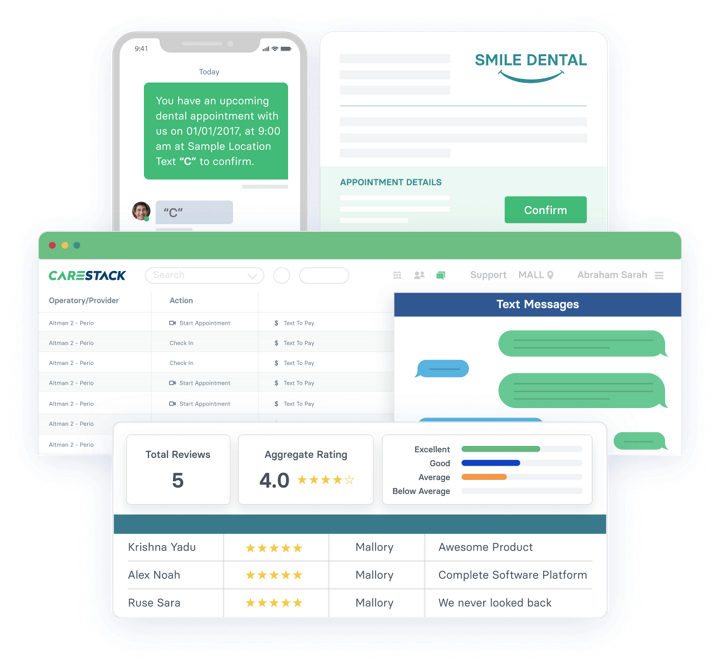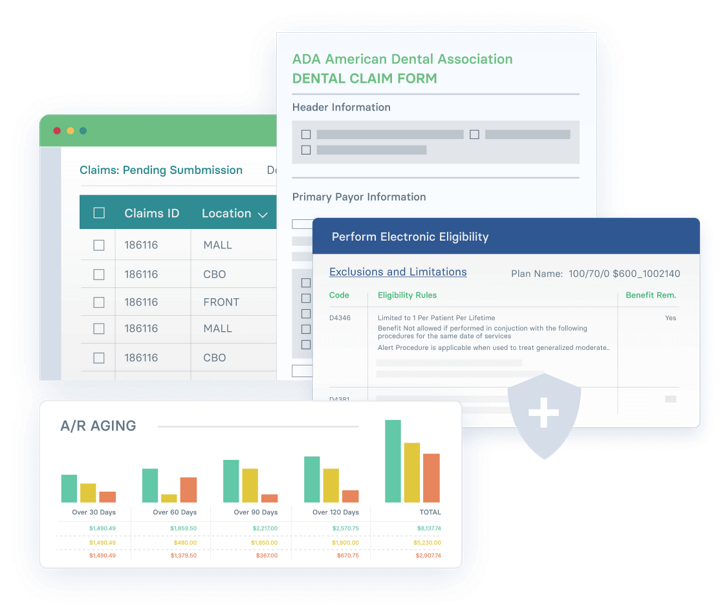 Smart Billing & Collections
Insurance verification forms: Smart forms to verify insurance and capture patient responsibility accurately.
Billing rules for claims management: Set up rules to scrub claims, automate submission, track denials, post and adjust payments, generate statements and notify patients about outstanding balances.
Denial management & follow ups: Control centers to keep track of denials and rejections, resubmissions and AR follow ups.
Powerful Analytics & Reporting

Enterprise reporting: Aggregate data across locations and create accurate, real-time reports for the entire organization or a group of locations or an individual location.
Scorecards for performance tracking: Choose from a library of KPI's and create scorecards to measure, monitor and optimize the business performance.
Patient analytics: Identify patients with unscheduled treatment, outstanding balances, hygiene recare and follow up with them promptly to fill schedules, collect more payments and improve revenue.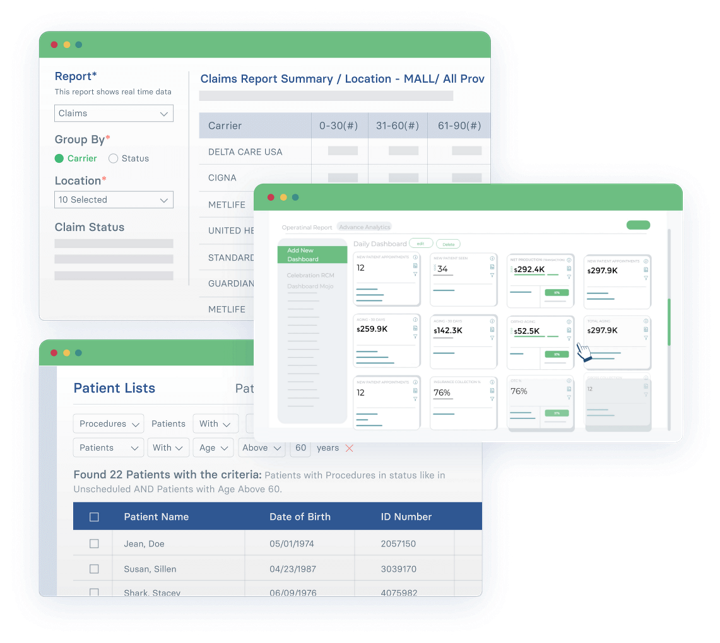 | | | | | | |
| --- | --- | --- | --- | --- | --- |
| | CareStack | Dentrix | Eaglesoft | PracticeWorks | Softdent |
| Charting | ✔ | ✔ | ✔ | ✔ | ✔ |
| Scheduling | ✔ | ✔ | ✔ | ✔ | ✔ |
| Check-in kiosk | ✔ | ✔ | ✔ | X | X |
| Teledentistry | ✔ | X | X | X | X |
| Patient reminders | ✔ | X | X | X | X |
| Business analytics | ✔ | X | X | X | X |
| Online appointments | ✔ | X | X | X | X |
| Patient portal | ✔ | X | X | X | X |
| Caller ID & 2-way texting | ✔ | X | X | X | X |
| Electronic forms | ✔ | X | X | X | X |
Straumann collects your information to facilitate the commercial relationship, contact you regarding future product offerings and promotion and all other permissible business purposes. Please see our Privacy Policy for more information.