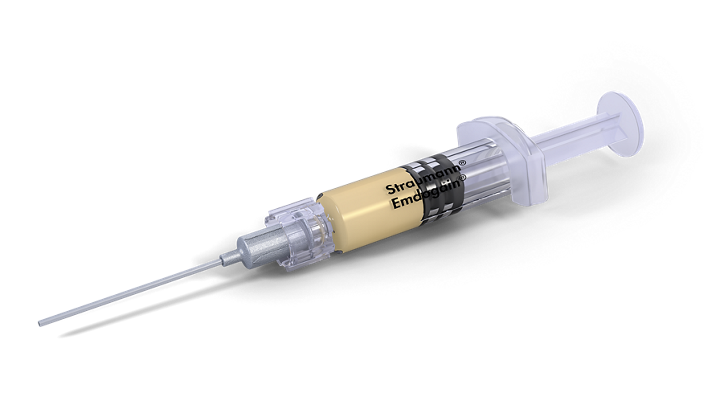 Selected literature
Straumann® Emdogain®
Straumann® Emdogain® is a protein-based gel which helps to preserve the tooth by promoting regeneration of lost periodontal hard and soft tissue caused by periodontitis. More than 200 clinical publications demonstrate predictable and natural-looking results, including up to ten years, as well as safe and effective stimulation of new periodontal attachment formation (periodontal ligament, cementum and alveolar bone).

No guarantee of completeness.

Twenty years of enamel matrix derivative: the past, the present and the future. Miron RJ, Sculean , Cochran DL, Froum S, Zucchelli G, Nemcovsky C, Donos N, Lyngstadaas SP, Deschner J, Dard M, Stavropoulos A, Zhang Y, Trombelli L, Kasaj A, Shirakata Y, Cortellini P, Tonetti M, Rasperini G, Jepsen S, Bosshardt DD.  J Clin Periodontol. 2016 Aug;43(8):668-83. 
Ten-year results following treatment of intra-bony defects with enamel matrix proteins and guided tissue regeneration. Sculean A, Kiss A, Miliauskaite A, Schwarz F, Arweiler NB, Hannig M. J Clin Periodontol. 2008 Sep;35(9):817-24. 
Periodontal regeneration - intrabony defects: a systematic review from the AAP Regeneration Workshop. Kao RT, Nares S, Reynolds MA. J Periodontol. 2015 Feb;86(2 Suppl):S77-104. 
Clinical and histologic evaluation of human intrabony defects treated with an enamel matrix protein derivative (Emdogain). Sculean A, Chiantella GC, Windisch P, Donos N. Int J Periodontics Restorative Dent. 2000;20:374–381. 
Clinical concepts for regenerative therapy in furcations. Sanz M, Jepsen K, Eickholz P, Jepsen S. Periodontol 2000. 2015 Jun;68(1):308-32. 
A randomized clinical trial comparing enamel matrix derivative and membrane treatment of buccal Class II furcation involvement in mandibular molars. Part I: Study design and results for primary outcomes. Jepsen S, Heinz B, Jepsen K, Arjomand M, Hoffmann T, Richter S, Reich E, Sculean A, Gonzales JR, Bödeker RH, Meyle J. J Periodontol. 2004 Aug;75(8):1150-60..
A Prospective, Case-Controlled Study Evaluating the Use of Enamel Matrix Derivative on Human Buccal Recession Defects: A Human Histologic Examination. McGuire MK, Scheyer ET, Schupbach P. J Periodontol. 2016 Jun;87(6):645-53. 
Evaluation of human recession defects treated with coronally advanced flaps and either enamel matrix derivative or connective tissue: comparison of clinical parameters at 10 years. McGuire MK, Scheyer ET, Nunn M. J Periodontol. 2012 Nov;83(11):1353-62. 
Efficacy of periodontal plastic surgery procedures in the treatment of localized facial gingival recessions. A systematic review. Cairo F, Nieri M, Pagliaro U. J Clin Periodontol. 2014 Apr;41 Suppl 15:S44-62. 
Enamel matrix derivative, inflammation and soft tissue wound healing. Miron RJ, Dard M, Weinreb M. J Periodontal Res. 2015 Oct;50(5):555-69..