Straumann® PURE® Ceramic Implant 3.3 mm
PUREly amazing: Straumann® PURE® Ceramic Implant 3.3 mm
Completing the portfolio of Straumann monotype ceramic implants
The 3.3 mm diameter-reduced Straumann® PURE Ceramic Implant helps to overcome the clinical requirements of specific situations that require reduced-diameter implants, especially in the anterior region. Together with the 4.1 mm version, it completes the portfolio of Straumann monotype ceramic implants.
A high-end esthetic solution that makes the difference
The Straumann® PURE Ceramic Implant makes available a different esthetic solution to treat patients who have specific needs and demands. While some patients have a thin gingival biotype, which requires a different treatment approach, others express an explicit wish for a metal-free alternative. With this innovative metal-free solution, you will be able to expand your patient base and business: a patient survey conducted in Europe by Straumann, including more than 250 participants has shown that, given the choice, considerably more people would prefer a ceramic to a titanium implant. The Straumann® PURE Ceramic Implant is backed by Straumann's decades of experience in research and product development. This means that it comes to the market with the supporting evidence and highest quality manufacturing standards that you can expect from a member of the Straumann® Dental Implant System.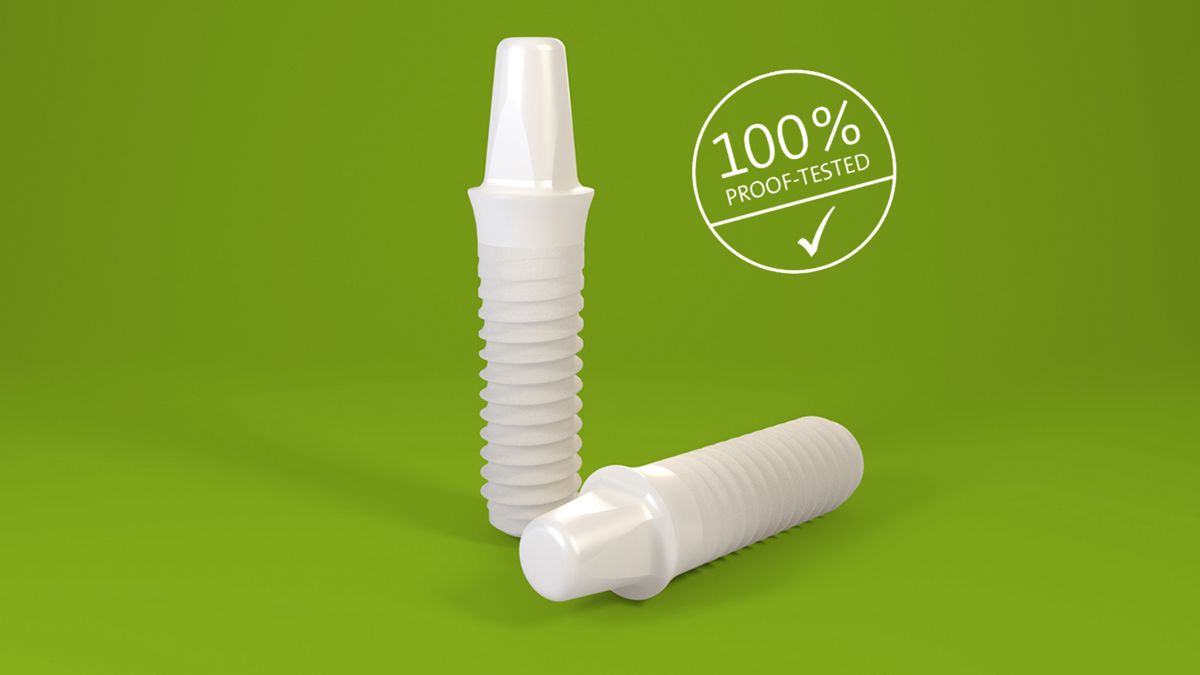 Rigorously tested and backed by science
The manufacturing process of Straumann® PURE implants involves some innovative steps, including a rigorous test procedure in order to assure the stability of every single implant. Data from mechanical tests also show that the Straumann material is capable of meeting the requirements imposed on the strength of diameter-reduced implants from ceramic1. Static fracture strength tests according to ISO 14801 show that the Straumann® PURE Ceramic Implant has a significantly higher resistance to forced rupture than competing products in both regular and reduced diameters.2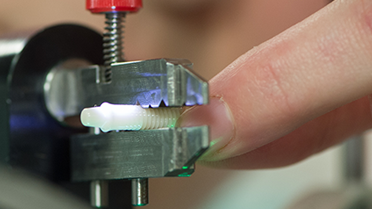 Compelling features
The Straumann® PURE Ceramic implant comes up with some impressive features:
Design features that combine the known advantages of the Straumann® Bone Level and the Soft Tissue Level implant design

The high-performance, yittria-stabilized zirconia that provides an even higher fatigue strength than grade 4 titanium implants

The original Straumann® ZLA® surface, designed to enhance and shorten the ­healing process and to provide a highly predictable osseointegration3,4,5.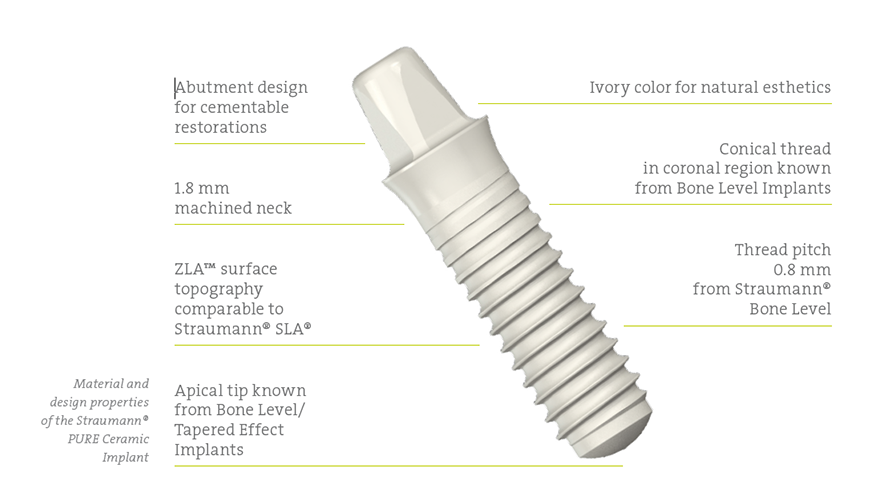 After nine year of scientific research and development, the 4.1 mm Straumann® PURE Ceramic Implant was officially launched at the ITI World Symposium in April 2014. The diameter-reduced Straumann® PURE Ceramic Implant 3.3 mm was fully introduced to the market at the end of 2014. The first 3.3 mm Straumann® PURE Ceramic Implants were placed between July and October 2014 in a controlled market acceptance test with selected dentists. The very first implant was placed by Dr. Florian Thieringer from the Clinic of Oral- and Maxillo-Facial Surgery at the University Hospital of Basel in Switzerland.

1 Data on file. 2 Data on file. 3 Gahlert M et al. Clin Oral Implants Res. 2012 Mar;23(3):281-6. 4 Bormann KH et al. Clin Oral Implants Res. 2012 Oct; 23(10):1210-6. 5 Data on file.