ClearCorrect® aligners:
the invisible fit that
won't quit.
nobody does it quite like ClearCorrect.
What does it take to move teeth? It's simple, really: all it takes is a little bit of pressure applied strategically, and, most importantly, consistently. Our aligners feature two great innovations that come together to ensure consistent, accurate pressure: our trimline, and our proprietary ClearQuartz™ tri-layer aligner material.
how invisible are ClearCorrect aligners? see for yourself.

Our aligners are about as clear as it gets when it comes to clear aligners—most people won't know you're wearing them. That's a big deal with aligners, but that's not the whole story. If you really want to know what makes ClearCorrect aligners so special, we'll have to get into the science.
keep reading for more science.

ClearQuartz™ tri-layer material
ClearQuartz features an elastomeric layer (A) between two resilient, low-porosity shells (B). The outer layers allow the aligner to be tough and stain-resistant, while the inner layer allows the aligner to apply gentle, consistent pressure. Even better, ClearQuartz retains 10x more of its initial force than other aligners,* and retains its shape throughout the wear time of the aligner.**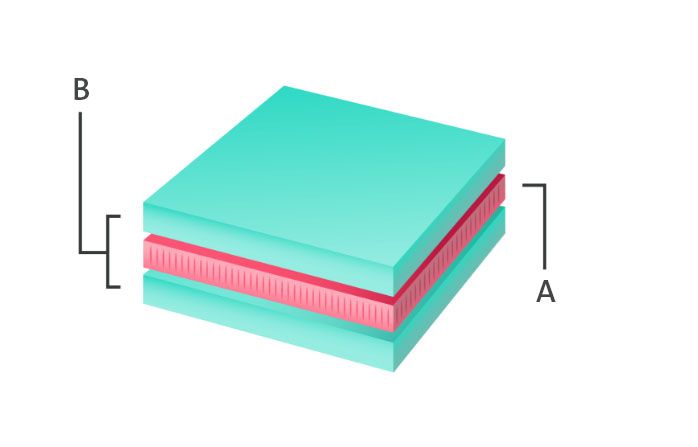 A - elastomeric layer
B - dual shells
* Data on file. Over 72 hours.
** Data on file.
the ClearCorrect trimline: because the fit is it.
In order to work, orthodontic devices have to actually stay on, and that's exactly what ClearCorrect aligners are best at. Other aligners relax and lose grip over the wear time. This is why they often add "engagers" (small tooth-colored bumps) to your teeth to give the aligner something to hold on to. While some engagers are needed to help teeth move, others are only used to hold the aligner on.

ClearCorrect aligners are specifically designed to effectively move teeth with fewer engagers. In fact, due to their smooth flat trimline that extends past your teeth, ClearCorrect aligners have been shown to be 2.5x more retentive than aligners with a scalloped trimline.1 Without the need for additional engagers, you get an effective treatment that looks good on you.
ClearCorrect aligners stay on 2.5x better than scalloped aligners1


1Cowley, D. The effect of gingival-margin design on the retention of thermoformed aligners. J Clin Orthod. 2012 Nov;46(11):697-702​
ClearCorrect aligners: a better experience for you.
A more flexible aligner that adapts to teeth better, for a more comfortable fit, remarkable clarity, and stain resistance? Oh yeah, we think you're going to like these.
2With 1/3 less initial force compared to 0.030 single-layer material. Data on file.
a treatment for all smiles
Smiles come in all shapes and sizes, and so do malocclusions. ClearCorrect can straighten a wide variety of smiles. Do any of these look like your teeth? Click on them to learn more.