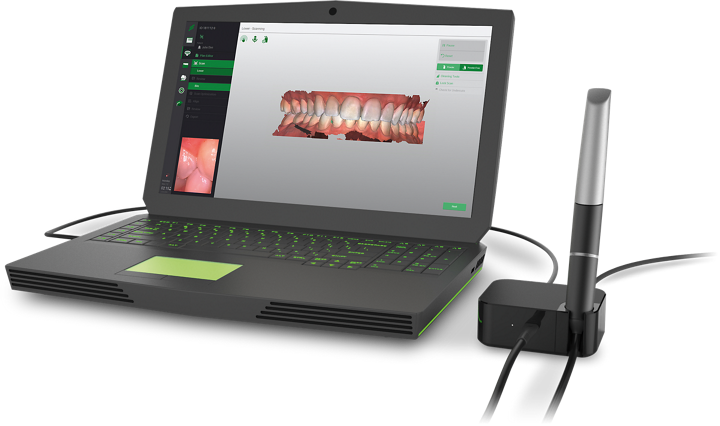 Straumann®
Virtuo Vivo™
Intraoral Scanner
Capture each note.
Accurate, powder-free scanning in real life colors is just a beginning of your digital journey. With Virtuo Vivo™ you have access to full digital ecosystem.
EASE OF HANDLING

Virtuo Vivo™ is ergonomically designed to provide a pen-grip hold and comfort to the user. The Virtuo Vivo™ also features removable sleeves that eliminate patient turnaround time. The sleeves can withstand sterilization in an autoclave for up to 250 cycles.

UNSURPASSED SCANNING ACCESS

Multiscan Imaging™ captures data from many angles simultaneously. This 3D scanning technology packs the power of two miniaturized 3D scanners into small hand-held intraoral scanner. Virtuo Vivo™ provides real-life color scanning which allows for a better communication between the dentist and the patient and easier margin line marking.

GESTURE & VOICE CONTROL

Wave goodbye to traditional touchscreen monitors. Motion control technology allows touch-free manipulation of the screen imagery while wearing gloves. You can also use the air-mouse feature that enables movement of scan on the screen based on the tilt of the handpiece. 

REAL-TIME DIGITAL RESULTS

A luminescent ring on the handpiece and audible signals allow the user to have confirmation that the data is being acquired. Data quality can be validated in real-time as the software creates the 3D model. The data can then be sent immediately to an external service provider.

CARES® CONNECT

CARES® Connect allows any member of the dental clinic team to digitally send intraoral or impression scans to the laboratory of choice, and tracking tools will provide information on the status of the case.
Featured stories on youTooth