Straumann TLX Virtual Symposium 15 & 16 June 2021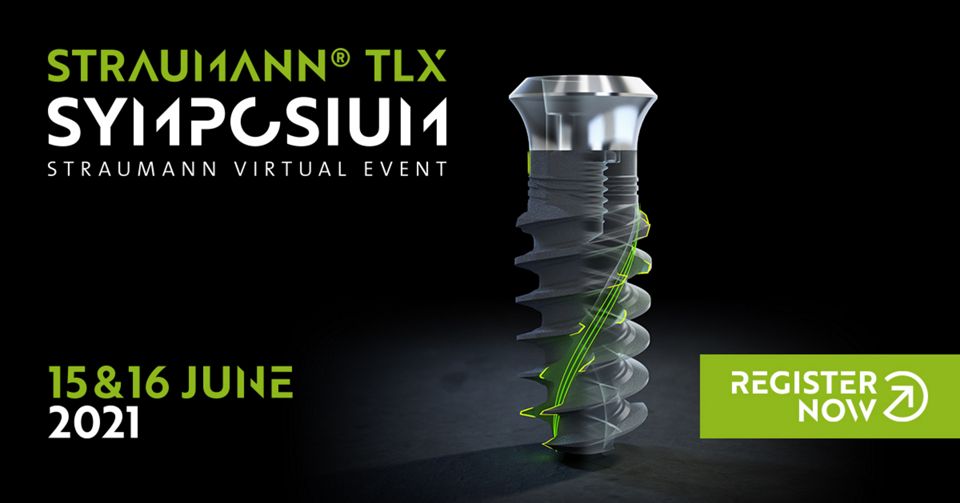 New opportunities in immediacy and beyond. Based on 35 years of Tissue Level heritage.
15 & 16 June 2021
Start: 16:30 CET – Duration: 2.5 hours per day
Registration: https://tlx.virtualevents.straumann.com
Whether you are a keen user of the Straumann(R) Tissue Level Implant or an experienced clinician in immediate treatment protocols, our new Straumann(R) TLX Implant System will open up new opportunities for you. In this 2-day online symposium, renowned international speakers and leading clinicians will show you what happens when 35 years of heritage meet one of the major trends in dentistry.
The end of compromise?
"The bone sets the tone but the soft tissue is the issue." That sentence by Prof. Jan Lindhe remains valid for most clinicians and especially holds true for the dentists who practice immediate treatment protocols. Historically, many dentists have had to choose between the well-proven long-term success of tissue level implants in conventional treatments and the life-changing benefits of immediate treatments, which may be sometimes associated with risks. This symposium will help to reconcile both views by introducing a major new development in the Straumann portfolio.
What you can expect from this symposium
In this 2-day symposium you will discover how the Straumann(R) TLX Implant System will add value to your practice of dentistry. Renowned international experts and leading clinicians will present the development history and the clinical advantages of this new system in various indications. From single to full-arch restorations, from fixed to removable prostheses, you will see the different clinical uses of the Straumann(R) TLX Implant System. As it proudly draws from 35 years of evidence and benefits from Straumann's latest technological progress, the Straumann(R) TLX Implant System sets out to support primary stability and immediate protocols in all bone types while contributing to peri-implant health preservation.
List of Speakers:
Dr. Abid Faqir, United Kingdom
Dr. André Chen, Portugal
Dr. Barbara Sobczak, Poland
Prof. Daniel Buser, Switzerland
Prof. Dean Morton, USA
Dr. Edgard El Chaar, USA
Dr. Eik Schiegnitz, Germany
Dr. Faresh Desai, United Kingdom
Prof. German Gallucci, USA
Dr. Leonello Biscaro, Italy
Dr. Louwrens Swart, South Africa
Dr. Matthieu Collin, France
Dr. Ophir Fromovich, Israel
Prof. Shakeel Shahdad, United Kingdom