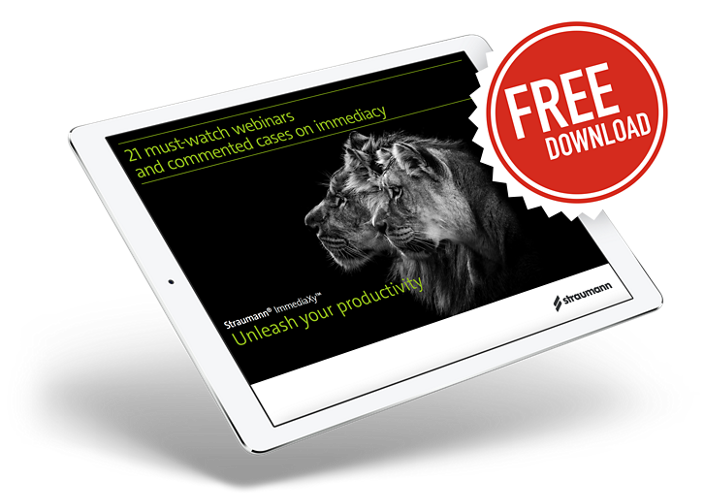 Let us help you!
Contact us to know more and receive a refined selection of 21 webinars, and commented cases on immediacy. The e-book includes webinars by Dr Abid Faqir, Dr Alfonso Rao, Dr Shakeel Shahdad and Dr Andrew Legg.

*the call-back function is only available if pop-up blockers are deactivated.
Why Straumann® ImmediaXy™?
Patients' increasing demand for shorter treatment times and the exposure to the COVID crisis have created more pressure in dental practices, both clinically and businesswise. With the growing evidence for predictable long-term success, and the positive effects on productivity and practice growth, immediate treatment protocols are an increasing choice in implant dentistry. The Straumann® ImmediaXy™ ecosystem enables you to confidently place and restore in one visit, benefiting your patient - with fewer surgical steps, faster treatment and good aesthetic outcomes - and your practice - with reduced chair time, more productivity and therefore more patients being treated. 
The Straumann® ImmediaXy™ suite of solutions
Straumann® ImmediaXy™ covers all stages of an immediate treatment workflow: Data Acquisition, Planning & Design, Surgery and Restoration. It provides end-to-end solutions, which are designed to enable immediate treatments with predictable outcomes, even in challenging indications. ImmediaXy™ also makes the benefits of digital dentistry accessible – either in-house or outsourced – and is compatible with third-party solutions. A modular system, that can be tailored to support your workflow.
Register your interest - get the free e-book