Contest: Win the Straumann® VirtuoVivo IO Scanner
Zerodonto #prosthocontest2019 proudly powered by Straumann
Online case presentation from 1st to 30th of May 2019 – Hashtag is #prosthocontest2019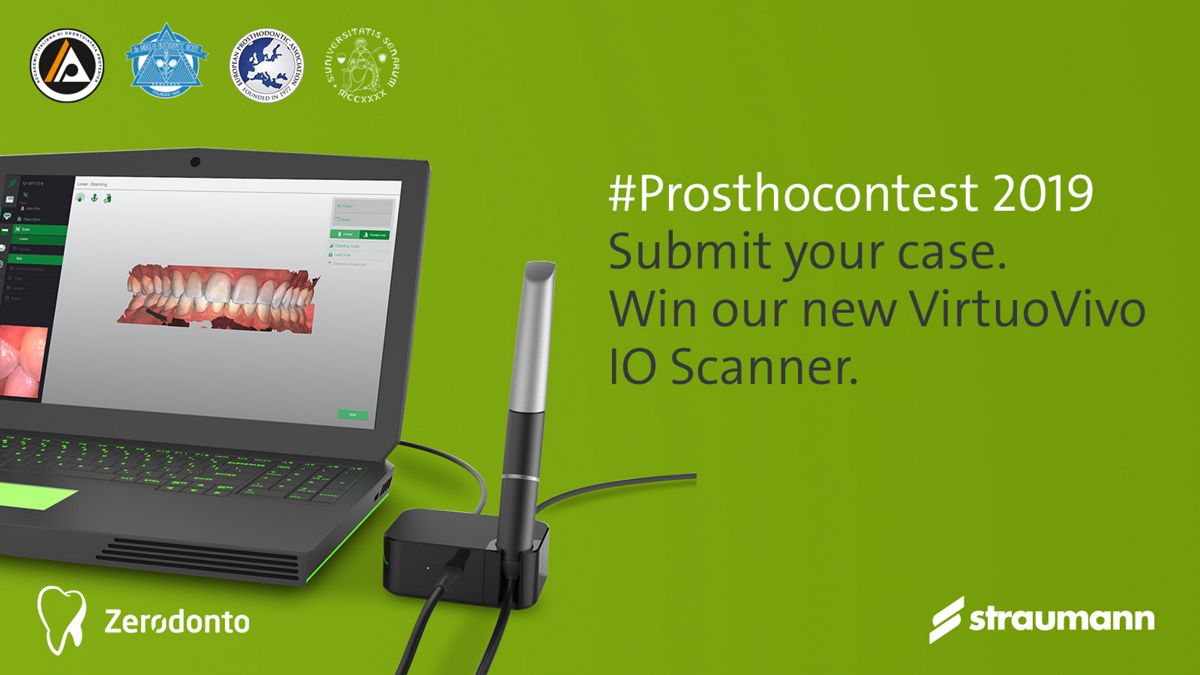 A new adventure is coming and it is a new opportunity to share knowledge with colleagues from all over the world! The contest is organized by EPA (European Prosthodontic Association), AIOP (Italian Academy of Prosthodontics), APS (American Prosthodontic Society), University of Siena and Zerodonto (https://www.zerodonto.com) and is open to dentists from all over the world; each colleague may submit a single case report covering any of the aspects of Prosthetic Dentistry. Case documentation shall include all relevant diagnostics, appropriate step-by-step illustration, and scientific/clinical rationale for the treatment plan and its execution, a final assessment.
This contest has a scientific nature and the prizes are the recognition of the personal merit of the winners and for encouraging public interest in this field.
The submission will consist of 3 to 50 images (JPEG or PNG format – every image/slide can include more than 1 photo) and a brief textual description in English. In order to better organize the cases, a 'simplified' EPA clinical case form will be available for participants. All 3 winners could indeed contribute to the European Journal of Prosthodontics and Restorative Dentistry (EJPRD) with a paper. All authors need to obtain all the legal authorizations from the patients they present.
Cases can be posted, from 1st to 30th of May 2019 directly on the Facebook group Zerodonto Dentistry Contest. Alternatively, all material can be sent in electronic format to: zerodonto@gmail.com (wetransfer.com provides a useful service to send big files). Please number your pics! And remember to start your description with the hashtag #prosthocontest2019!
All submitted clinical cases will be posted online also on the Zerodonto website, in order to give the widest visibility to all participants. Every clinical case will also find a place with a preview on Zerodonto Facebook page.
1st Prize: Straumann® will provide the new VirtuoVivo intraoral scanner as the main prize for the winner.
Best 10 cases: EPA (European Prosthodontic Association) and AIOP will publish the best 10 cases on their websites.
more prizes to come…
The Evaluation Committee will be composed by Marco Ferrari (University of Siena), Mutlu Ozcam (EPA), Phophi Kamposiora (EPA), Guillermo Pradies (EPA), Carlo Poggio (AIOP), Fabio Carboncini (AIOP), Costanza Micarelli (AIOP), Roberto Sorrentino (Federico II Naples University and Zerodonto), Izchak Barzilay (APS), Evangelous Rossopolous (APS).
The Committee will select the best 10 cases on the basis of the following parameters:
the initial situation

correct treatment planning

the final result

grading of difficulty

operative sequence

documentation

follow-up

scientific evidence
The best 10 cases will also be published on the EPA and AIOP website.
An online poll will select the 3 finalists from the 10 best cases.
The winner will be chosen by the Evaluation Committee.
The following events will be part of the #prosthocontest2019 final:
AIOP 38th annual meeting, November 2019, in Bologna

EPA annual congress held September 2019, in Amsterdam

92nd APS Annual Meeting in Chicago, 20-21 of February 2020
Notes: All the images will be analyzed by means of dedicated software in order to identify any possible digital manipulation. Only crops and exposure and brightness editing will be allowed. This contest is in no way sponsored, endorsed or administered by, or associated with, Facebook.