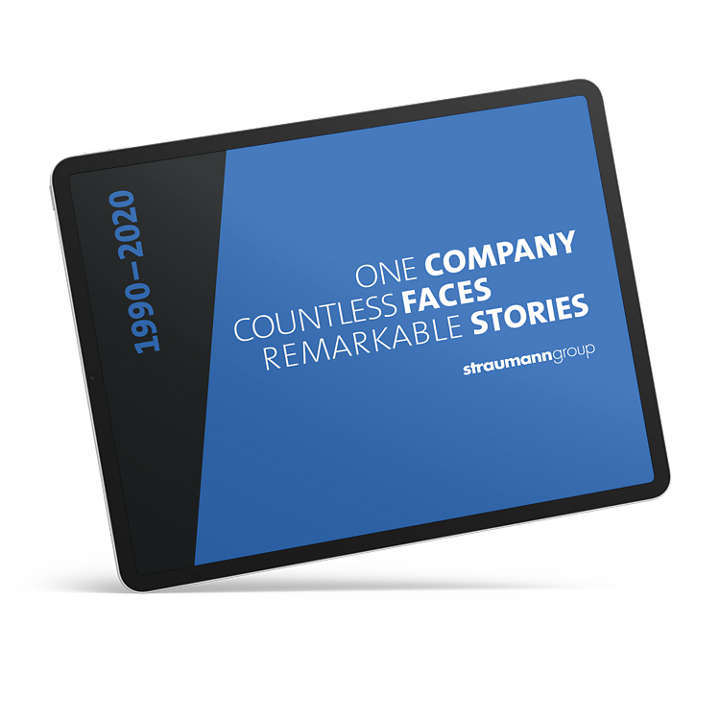 30 years anniversary
Read about the company's unique development over the past three decades in the Straumann Group anniversary book.

About this book
Dear Reader
Our original intention was to launch this publication at Straumann's Annual General Meeting in April 2020, as we celebrated the company's remarkable success over the past thirty years. But the ink was hardly dry on the pages, when the corona virus turned life upside down. A public AGM was no longer possible and global lock-down put an end to any thoughts of celebration. Furthermore, like most companies, we found ourselves contending with the most severe business crisis in three quarters of a century. When you have to weather a storm, sharpen your focus on essentials and re-size, who needs a retrospective book that lauds outstanding growth in a bygone reality? However, the true value of this book is not in the success it celebrates but in its portrayal of the people, culture, strategy and vision that have enabled the company to thrive. It is about their agility, entrepreneurial courage, passion for innovation, ability to create opportunities, take ownership and drive change. These attributes are essential for future success; they are nurtured by learning from the past, which is why this book is no less relevant now than it was when the ink was still wet.
Happy reading!
Gilbert Achermann
Chairman of the Board