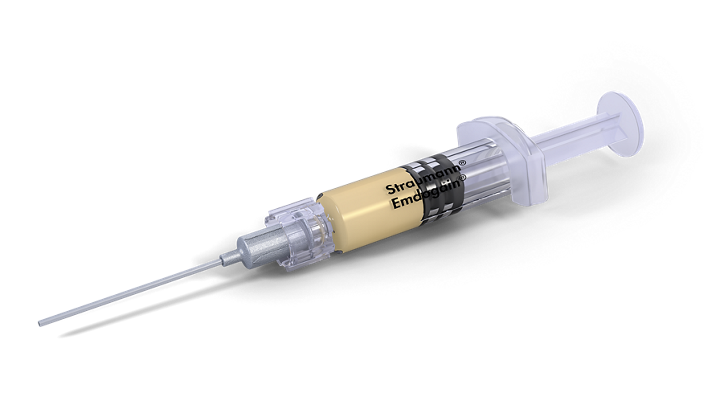 Selected literature
Straumann® Emdogain®
Straumann® Emdogain® is a protein-based gel which helps to preserve the tooth by promoting regeneration of lost periodontal hard and soft tissue caused by periodontitis. More than 200 clinical publications demonstrate predictable and natural-looking results, including up to ten years, as well as safe and effective stimulation of new periodontal attachment formation (periodontal ligament, cementum and alveolar bone).

Twenty years of enamel matrix derivative: the past, the present and the future. Miron RJ, Sculean , Cochran DL, Froum S, Zucchelli G, Nemcovsky C, Donos N, Lyngstadaas SP, Deschner J, Dard M, Stavropoulos A, Zhang Y, Trombelli L, Kasaj A, Shirakata Y, Cortellini P, Tonetti M, Rasperini G, Jepsen S, Bosshardt DD.  J Clin Periodontol. 2016 Aug;43(8):668-83. 
A randomized clinical trial comparing enamel matrix derivative and membrane treatment of buccal Class II furcation involvement in mandibular molars. Part I: Study design and results for primary outcomes. Jepsen S, Heinz B, Jepsen K, Arjomand M, Hoffmann T, Richter S, Reich E, Sculean A, Gonzales JR, Bödeker RH, Meyle J. J Periodontol. 2004 Aug;75(8):1150-60..
No guarantee of completeness.