Get started with the Prosthetic Selection Guide
Increase your efficiency with the new workflow-based tool and access all the prosthetic components you need for your case. 
Start from your implant platform to find your abutment

Follow the prosthetic pathway to select all your auxiliaries

Access your selection summary
Share your selection or order your components, it is so easy!
Find your prosthetic parts
Make a difference by working in the most efficient way!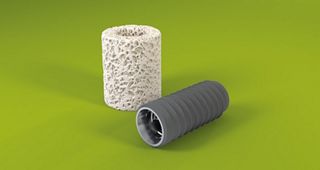 Dr. Bernhard Giesenhagen has developed an augmentation technique which allows bone transplantation and implantation to be performed on large three-dimensional bone defects in a single operation. Today, the bone ring technique can be used for nearly all indications. In the following article, the author describes the use of the botiss allogenic maxgraft

 bonering (a further development with Dr. Orcan Yüksel). Use of the maxgraft

 bonering technique is now established worldwide and offers an alternative to vertical augmentation with an autologous bone block.

Introduction
Implant treatment is often accompanied by bone augmentation procedures. In addition to guided bone regeneration (GBR), the most common techniques used to expand bone volume and height of the alveolar ridge are distraction osteogenesis, bone splitting as well as apposition and onlay osteoplasty. Harvesting autologous bone blocks for vertical augmentation is a very complex and invasive procedure. The author therefore developed the bone ring technique using autologous bone and unveiled his concept in 2003. The technique with allogenic bone (maxgraft

 bonering by botiss biomaterials) was further developed in collaboration with Dr. Orcan Yüksel and presented in 2010. When using this allogenic bone ring technique, treatment for the patient is optimized as the extra surgical stage and risks involved with harvesting autologous bone at a second site, can be avoided. The author has now performed almost one thousand augmentations with autogenous bone harvested intraorally and over two hundred augmentations with maxgraft

 allograft bonering.
The botiss maxgraft bonering technique
The maxgraft

 bonering technique is a one-stage procedure in which the maxgraft

 bonering is pressed into a bone bed that has been prepared precisely with a trephine drill. The implant is then placed through the inner hole of the maxgraft

 bonering.
Benefits
The bone ring technique has significant benefits over conventional procedures with autologous bone blocks:
Reduction in treatment time of between 45 and 60 minutes

Second procedure to harvest an autologous bone block and its associated risks can be avoided

Treatment time until the start of prosthetic restoration is reduced by three to six months
Indications
Augmentation with bone rings is possible in the  following cases, among others:
Vertical augmentation (three-dimensional defects with low-volume horizontal defect)

Single-tooth gaps

Interdental spaces