One of the most challenging patient groups for implant treatment includes patients who have undergone a combination of tumor surgery, chemotherapy and radiotherapy. Irradiation leads to decreased bone vascularity,4,5 impaired osteoblastic activity⁶ and reduced bone vitality,7,8 which severely compromise bone quality in these patients. The fragile mucosa and the risk of osteoradionecrosis present further challenges. However, from a quality-of-life perspective, this patient group stands to benefit the most from implant-supported prosthetic rehabilitation.

SLActive® showed a 100 % success rate in irradiated patients in a recent randomized clinical trial (RCT).3 Based on published reviews,9-12 no other implant surface has demonstrated such high success rate in this patient group within an RCT setting. Remarkably, at the 5-year follow-up none of the surviving patients had an SLActive® implant failure. The effective implant survival rate was an outstanding 100 %.13,14
SLACTIVE® PERFORMANCE IN IRRADIATED PATIENTS
Randomized Clinical Trial³:
102 implants, 20 patients
Post-surgery, radiotherapy and chemotherapy for oral carcinoma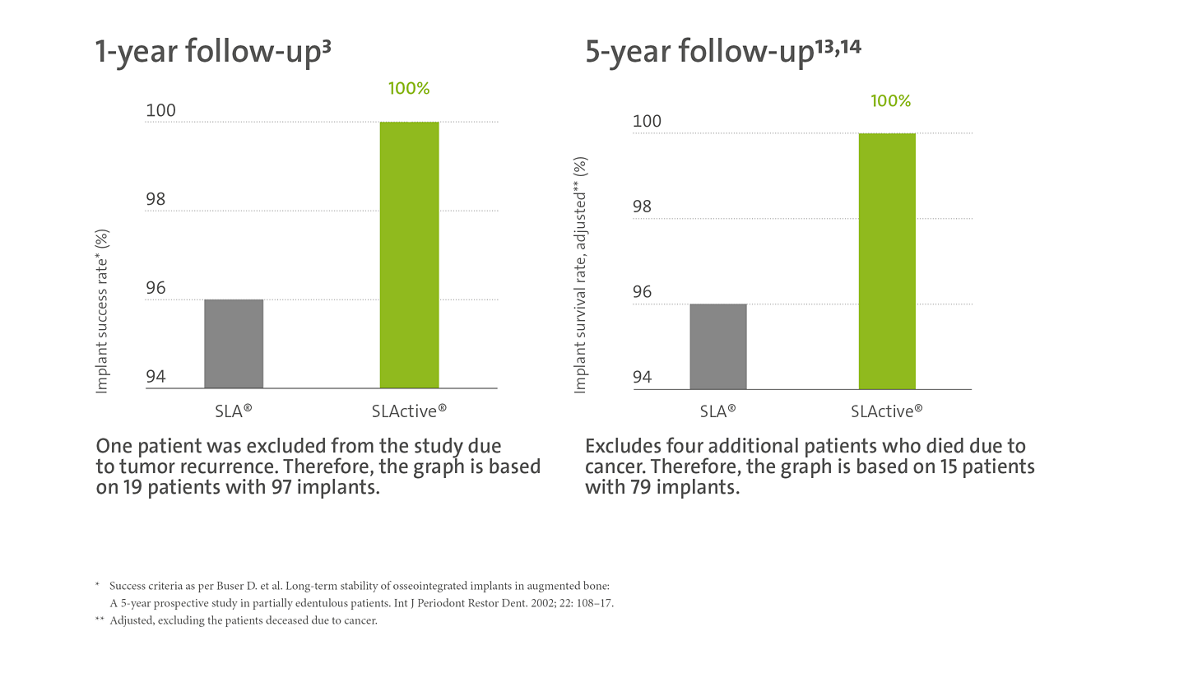 Uncompromised performance
Even in diabetic patients
Patients with diabetes have reduced wound-healing capacity,15,16 putting dental implants at risk, particularly if the patient is unaware of the condition. Worldwide, 1 in 11 adults has diabetes, while among adults 60 years of age and older, the prevalence is twice as high.17
Over the past 30 years, the number of people with diabetes in the US has quadrupled and, according to the U.S. Centers for Disease Control and Prevention, the figure could increase to as many as one in every three adults by 2050.18 In an estimated 50 % of people with type 2 diabetes, the disease remains undiagnosed.17
The placement of implants in smokers is often associated with high failure rates, risk of postoperative infections, and marginal bone loss.²⁹
HIGH PREDICTABILITY IN SMOKERS:
A recent clinical study comparing SLActive® performance in smokers and non-smoker patient groups reported excellent outcomes with SLActive®:
Roxolid® SLActive® narrow diameter implants showed 100 % survival rate in the smokers group after 6 months
No difference in marginal bone loss (MBL) between smokers and non-smokers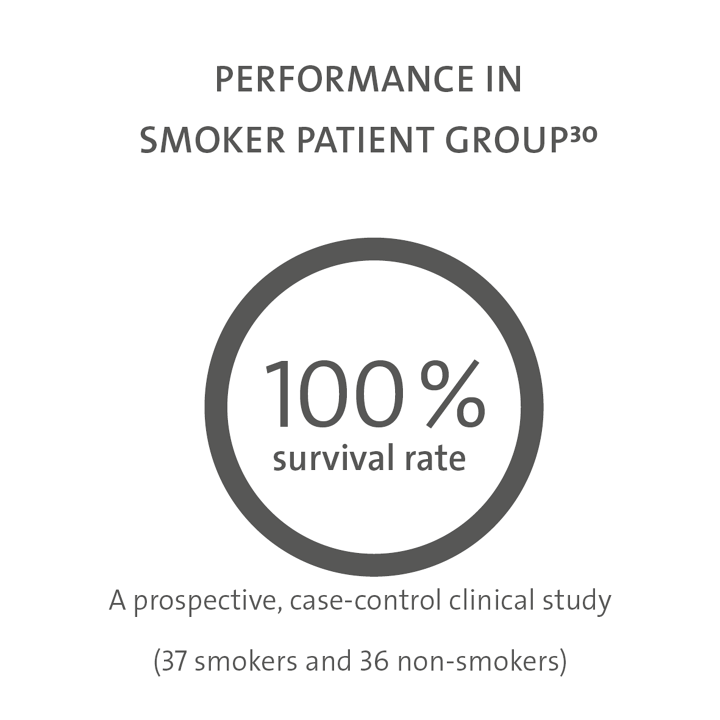 Give a rising prevalence of type 2 diabetes – how can clinicians address the risk, particularly in older patients?
GROWING CLINICAL EVIDENCE OF HIGHLY PREDICTABLE PERFORMANCE OF SLACTIVE® IN DIABETIC PATIENTS:
A new clinical study19 that compared SLActive® performance in patients with and without diabetes showed uncompromised performance of SLActive® implants:
100 % implant success rate in the diabetic group after 2 years
Bone changes similar to those in healthy individuals