maxgraft® bonebuilder
Mastering challenging cases.
3D shaped individualized, processed allogenic block
maxgraft® bonebuilder is an innovative, customized allogenic bone block which is individually designed and adj usted to the  desired 3-dimensional bone contour. Based on CT/CBCT scans of the patient, the bone block is virtually designed by botiss biomaterials GmbH (Zossen, Germany) using the latest 3D-CAD technology. The final product is then milled from processed cancellous bone blocks directly in the clean room facility of the Cells and Tissue Bank Austria (C+TBA) prior to final irradiation.
The patient-individualized allogenic block is delivered sterile and
is ready to be applied in surgery

is designed to fit perfectly to the recipient site

reduces risk of infection compared to a bone block (because repetitive intra- and extraoral handling can be avoided)

saves chair-time compared to autologous blocks
The natural structure and composition of maxgraft® provide an excellent scaffold for osseointegration:
High porosity and the physiological content of human collagen account for the excellent osteoconductivity

Maximum contact area between the graft and the bone supports fast vascularization and integration of the graft
Preservation of mineral and organic phase of the bone
The cleaning process (Allotec® process) of maxgraft® products preserves the natural structure of both the mineral phase and the organic phase  (collagen). Collagen attracts endothelial cells and osteoblasts by chemotaxis.  This ensures quick incorporation and natural remodeling.
Interconnected pores and rough surface morphology are fundamental to good hydrophilicity. Due to the excellent hydrophilicity, the maxgraft® bonebuilder absorbs blood quickly. Adhesion of proteins and signaling molecules from the blood further improves the biological properties of maxgraft®.
Clinical experience shows that the maxgraft® bonebuilder has a high volume stability.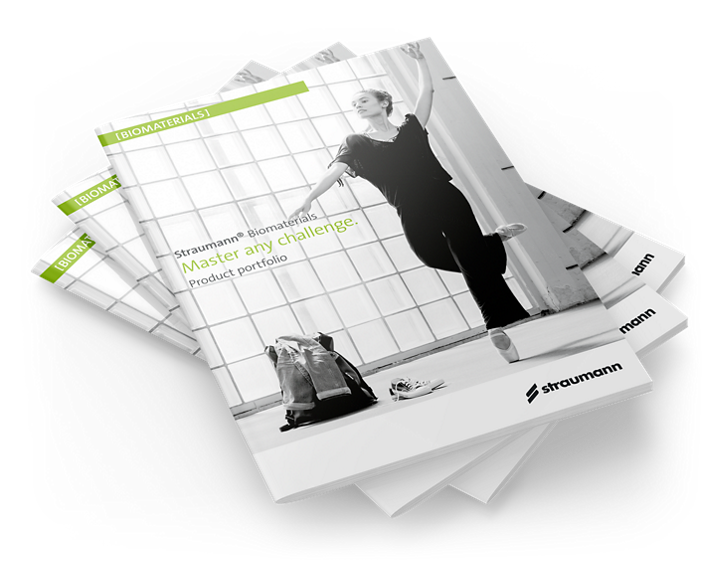 Straumann® Biomaterials
Product portfolio
Learn more about our Biomaterials portfolio.