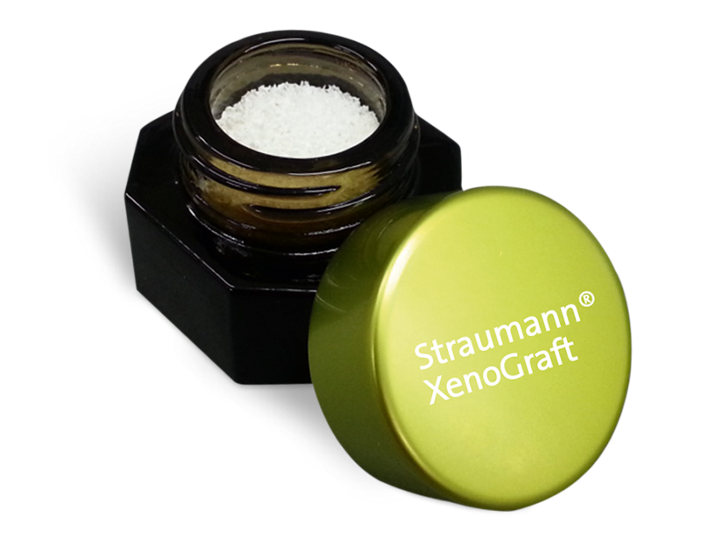 Mastering everyday cases. Non-sintered granules.
The everyday choice for successful bone and tissue regeneration.
Straumann® XenoGraft:
– Easy to handle
– Long-term volume stability
– Successfully applied in over 500,000 cases worldwide
Osteoconductivity

The natural structure of Straumann® XenoGraft with interconnected porous granules facilitates the adhesion and invasion of bone forming cells and results in complete integration of the implant due to the ingrowth of cells and blood vessels.

Healing environment and volume stability

Straumann® XenoGraft undergoes superficial resorption only. The granules provide excellence space maintenance and predictably integrate into newly formed bone ensuring volume maintenance and a strong long lasting matrix for successful placement of dental implants.

Safety

In order to assure maximum safety, organic components are completely removed by solvent and temperature treatment (> 500 °C) during the manufacturing process of Straumann® Xenograft. Favorable handling and performance are ensured due to the comparably low temperature treatment (non-sintered), which preserves the natural microstructure of natural bone. The final sterility of Straumann® XenoGraft is ensured by gamma irradiation.

Spongy consistency after hydration

Straumann® XenoGraft particles absorb liquid quickly and adhere to each other after mixing.

Easy handling and application

Straumann® XenoGraft particles stick to the spatula after hydration. Avoid condensation of the particles during application. Non compacted particles leave space for blood vessel ingrowth and formation of new bone matrix.
Featured stories on

youTooth