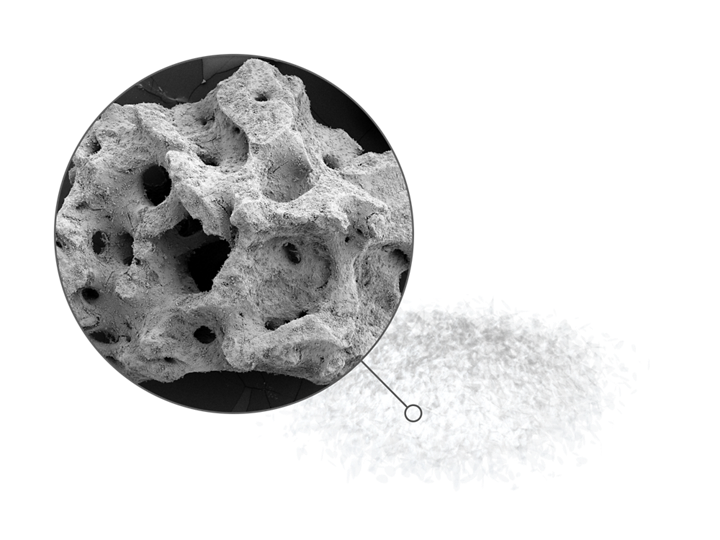 cerabone®
Mastering protection.
1200 °C safety: pure natural bone mineral
cerabone® is one of the most commonly used bovine bone grafting materials in regenerative dental medicine. It is a dimensionally stable bone graft providing perma-nent structural support.
Lifetime volume stability
Over 1 million successful augmentations
The unique 1200 °C manufacturing process of cerabone® removes all organic components for maximum safety and leads to a 100 % pure natural bone mineral – by utilizing heat and water only (free of chemical additives). Gamma-irradiation ensures final sterility of cerabone®.
The human-like bone structure of cerabone® with its three-dimensional pore-network and bioactive surface result in excellent osteoconductive properties. It promotes the adhesion and invasion of bone forming cells resulting in complete integration of the granules into newly formed  bone matrix.
Due to its exceptional high purity, cerabone® provides dependable volume stability of the augmented site, which is particularly advantageous for  support of the soft tissue in the aesthetic region, for preservation of the ridge shape and to protect autologous or allogenic bone from resorption.
Hydrophilicity + Depot-Effect
The interconnected pores and superior hydrophilic surface of cerabone® support the adhesion of proteins from the blood. cerabone® binds and gradually releases signaling molecules thereby providing a long-term depot-effect. In addition, the 100 % pure natural bone mineral acts as a calcium reservoir slowly releasing calcium ions important for bone remodeling.
Predictability + Evidence
The long-term success of cerabone® in regenerative dentistry has been proven by > 1 Mio treated patients worldwide. Moreover, cerabone®  has been in use for more than 15 years in various medical applications  (e.g. craniofacial surgery, oncology and hand- and spine surgery).
Because of its long-term stability, cerabone® may be specifically preferred in patients with less adequate bone quality.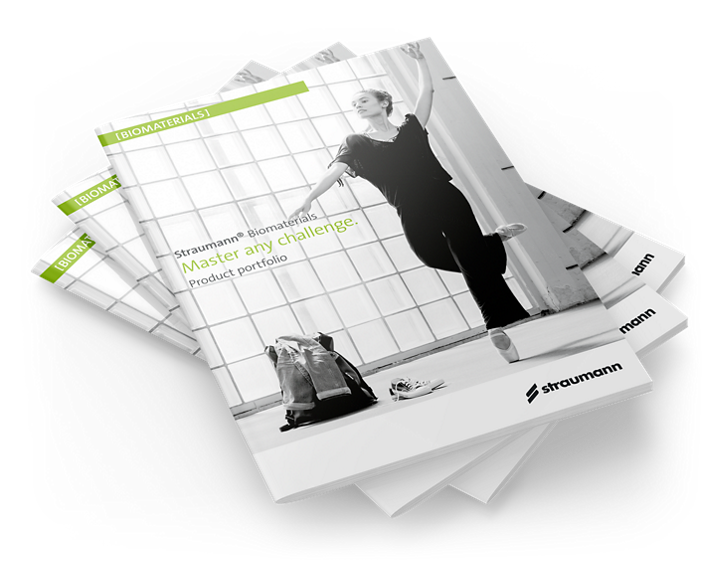 Straumann® Biomaterials
Product portfolio
Learn more about our Biomaterials portfolio.