Straumann® Pure Ceramic Implant
One-piece and esthetically sensitive ceramic implants for the front teeth area
A clinical case report by Tobias Wilck, Germany
The following case report illustrates from experience how one-piece all-ceramic implants with one surface are comparable to the very well-documented Straumann® SLA® surfaces. The dental implant treatment in the anterior maxillary region took place in collaboration with Dr. Bettina Koch-Heinrici (Hamburg), who carried out the prosthetic restoration.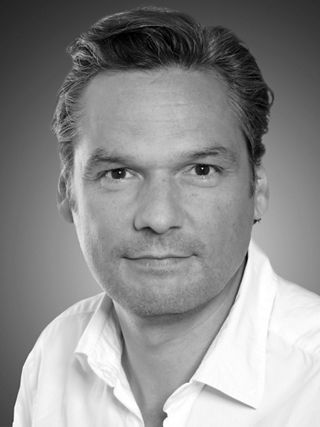 Tobias Wilck
Dr. med. dent.
Dr. Tobias Wilck has been a specialist in implantology, oral and maxillofacial surgery since 2004. After studying medicine in his hometown of Hamburg, he gained international experience in Kingston (Jamaica) and Vienna before studying dentistry in Hamburg and Tübingen, where he also worked as a training assistant. He completed specialist training in Hamburg and Tübingen, as well as in Krefeld-Uerdingen, where he was most recently employed as a senior physician. In recent years, Dr. Wilck has been involved in humanitarian work in Vietnam (University of Hanoi), caring for facially disfigured children, primarily with cleft lips and palates.

Introduction
Over the last few years, there has been increasing demand from patients for completely metal-free (implant) provision, and many patients prefer ceramic to titanium implants7. All-ceramic prosthetic restoration with ceramic implants results esthetically in a natural dental and mucosal appearance, for example in patients with a thin gingival biotype or a high smile line3,10. In addition, in our practice, patients who are intolerant to titanium and have elsewhere described "chronic fatigue syndrome" symptoms following titanium implant insertion have indicated their wish for a metal-free alternative to titanium implants. Specialized information issued by the Institute for Medical Diagnostics in Berlin, has concluded that titanium intolerance is not an allergy, but rather the result of an increased propensity to infection of tissue macrophages on titanium oxide particles12,14,16. I offer my patients a blood test to determine titanium intolerance. In patients with positive findings, delayed or impaired healing of dental titanium implants can result, where even the macrophages in the implantation area can react hyperactively to released titanium particles and trigger both local and systemic inflammation. My basic motivation in our referral practice is to offer our patients implants, which, wherever possible, do not burden bone or the immune system. With this in mind, I have made increased use of ceramic implants. A great advantage of ceramics is their biocompatibility. With regard to the healthy maintenance of peri-implant tissue, it is extremely beneficial to monitor early plaque accumulation on zirconium dioxide13. This results in less gingival recession, and the formation of the papilla around the implant is more esthetically pleasing9,15. Zirconium oxide implants have a lower tendency to extended peri-implant infections17.
Special surface zirconia ceramics
The Straumann® Pure Ceramic Implant impressed me particularly in this respect. It consists of a one-piece implant body made of 100% high-performance zirconia ceramic (Y-TZP). Its shape is based on features of both the Straumann® Soft Tissue Level Standard Plus and bone level implants. In the past three years, the proportion of ceramic implants inserted, compared with recent insertions using titanium implants, has risen steadily in our practice and is currently at about 60 percent. I have since placed 300 Straumann® Pure Ceramic implants and, in our referral practice, I only recommend ceramic implants to my patients. Straumann's background, combined with over 60 years of experience in material innovation, gives me confidence as a user and offers safety in treatment. With the official launch of the one-piece implant following a seven-year development process, Straumann offers an all-ceramic implant system with reliable, scientific processing for predictable treatment success2,10. The Straumann® ZLA®ceramic implant surface is characterized by macro- and micro-roughness, which is similar to the topography of the proven Straumann® SLA surface (SLA stands for sand-blasted, large-grit, acid-etched). Animal studies have shown osseointegration with respect to peri-implant bone density and BIC value (bone to implant contact), which corresponds to Ti-SLA5,11. The SLA surface is one of the best documented rough surfaces in implantology and, due to its osseointegration properties, reduces the healing time of implants4,6. Studies show a much improved accumulation of fibroblasts on the ceramic surface and subsequently a good soft tissue graft is expected8,18.
Findings and planning
A 28-year-old patient was transferred to our practice with an unremarkable general history: He had a naturally healthy bite, but was dissatisfied with the esthetics and chewing function of the upper jaw. Teeth 11, 21 and 22 had been endodontically treated after trauma to the front teeth suffered as a child. Due to complications, multiple apicoectomies were carried out and, over a period of ten years, there has been severe bone resorption in the anterior maxillary region. After a discussion on possible treatment options (from removable dentures or bridge to titanium implants), the request was quickly made for completely metal-free treatment following the extraction of teeth 11, 21 and 22. I made the patient aware of possible compromised gingival esthetics, as even a three-dimensional bone graft can result in dehiscence, and further augmentation may be necessary. Both the patient and his family dentist agreed with the metal-free treatment concept. About three months after extraction of teeth 11, 21 and 22, a CBCT was prepared to evaluate bone and subsequently show the reconstruction to the patient using photographic examples. After scheduling the procedure, the patient was fitted with a temporary form by the family dentist. Then a new CBCT was made using a template and from this, three Straumann® Pure Ceramic implants were navigated and inserted (region of 11, 21: endosteal diameter 4.1 mm; region of 22: diameter-reduced ceramic implant 3.3 mm). A navigated procedure is the basic prerequisite for successful insertion and prosthetic implant care. Given that it is a one-piece implant system, detailed planning of the spatial position of the implant by prosthetically orientated "backward planning" is required. Unlike with two-piece implants, angled construction axis correction is subsequently not possible. However, the one-piece design offers an outstanding advantage: Due to its one-piece design, a micro-gap within the implant is eliminated, which reduces the risk of the patient developing periimplantitis.
Treatment procedure
For the three-dimensional reconstruction, I removed autologous bone from the jaw angle region and cut it into thin slices. An outer contour was subsequently reconstructed and then the new bone walls were screwed at a distance. PRGF bone chips were mixed and condensed into the gap. If the gap is too large, in our practice we use Straumann® Bone Ceramic, a synthetic bone substitute material. This supports the regeneration of vital patient bone and at the same time restores and retains bone volume. In this case, a collagen membrane was used. After an approximate six-month healing period, guided implant placement was carried out. This allowed precise insertion of a one-piece zirconia implant in the correct axial alignment (drilling protocol corresponded to the bone level implant). Pure Ceramic implants are available with an endosteal diameter of 4.1 mm and a reduced diameter of 3.3 mm, as well as in two heights and four implant lengths of 8, 10, 12 and 14 mm. Please note: The implant body cannot be ground down at a later date. Any microcracks would reduce the breaking strength. Therefore, great care must be taken during pre-implant diagnostics and planning in the selection of the height of the prosthetic platform (here 5.5 mm). After a period of approximately four months of implant healing with temporary forms, implant care was provided by the family dentist Dr. Bettina Koch-Heinrici. The zirconium framework was constructed and milled using CAD/CAM (milling by Amman Girrbach), blending was carried out using Creation Zi-CT leucite crystal containing feldspar ceramic (Willi Geller).
Conclusions for clinical practice
I am completely convinced by these zirconia implants with special surface features: I am able to offer my patients a product that, as far as possible, does not burden bone or the immune system, has excellent esthetic and mechanical properties and, due to its one-piece design, only a single intervention is required, trauma is minimized and subsequent morbidity reduced, and in addition, due to its one-piece design, the risk of the patient developing periimplantitis is reduced. The one-piece Straumann® Pure Ceramic implant is both user-friendly and patient-friendly and has the advantage of scientifically supported results and a reduced diameter option. In my opinion, for the benefit of patients, metal-free restorations should become routine for implantology. I am willing to be part of a research team: As far as I'm concerned they are already the "next generation of dental implants"1.
Note: this case report is the English translation of an article first published in "DZW Orale Implantologie 3/16, Fachmagazin zur DZW – Die ZahnarztWoche", Germany – No. 42/16, October 2016. 
1. Barfeie A, Wilson J, Rees J. Implant surface characteristics and their effect on osseointegration. Br Dent J. 2015 Mar 13;218(5):E9. doi: 10.1038/sj.bdj.2015.171. 2. Becker W. Neues Keramikimplantat von Straumann. Dent Implantol 2014:18,3,230-231. 3. Bidra AS, Rungruanganunt P. Clinical outcomes of implant abutments in the anterior region: a systematic review. J Esthet Restor Dent. 2013 Jun;25(3):159-76. doi:10.1111/jerd.12031. Epub 2013 May 3. 4. Bischof M, Nedir R, Abi Najm S, Szmukler-Moncler S, Samson J. A five-year life-table analysis on wide neck ITI implants with prosthetic evaluation and radiographic analysis: results from a private practice. Clin Oral Implants Res. 2006 Oct;17 (5): 512-20. 5. Bormann KH, Gellrich NC, Kniha H, Dard M, Wieland M, Gahlert M. Biomechanica evaluation of a microstructured zirconia implant by a removal torque comparison with a standard Ti-SLA implant. Clin Oral Implants Res. 2012 Oct; 23(10):1210-1216. 6. Cornelini R, Cangini F, Covani U, Barone A, Buser D. Immediate loading of implants with 3-unit fixed partial dentures: a 12-month clinical study. Int J Oral Maxillofac Implants. 2006 Nov-Dec; 21(6):914-8. 7. Engelhardt-Wölfler H. Patientenstudie Basel-München. Abschlussbericht: Verhaltensanalysen durch Prof. Dr. Henriette Engelhardt-Wölfler, Universität Bamberg, aus: Mehr als PURE Ästhetik. Die natürliche, stabile Versorgung. Starget 2014:1,35-39. 8. Erbshäuser M. Einteiliges Keramikimplantat im ästhetisch sensiblen Frontzahnbereich – die richtige Alternative zu bewährtem Titan? Implantologie Journal 2016 (11):32-40. 9. Gahlert M, Kniha H, Weingart D, Schild S, Gellrich NC, Bormann KH. A prospective clinical study to evaluate the performance of zirconium dioxide dental implants in single-tooth gaps. Clin Oral Implants Res. 2015 Apr 1. doi:10.1111/clr.12598. [Epub ahead of print]. 10. Gahlert M, Kniha H, Weingart D, Schild S, Eickholz P, Nickles K, Bormann K-H (Gemeinschaftspraxis Kniha/Gahlert, Munich, Germany). Prospective Open Label Single Arm Study to Evaluate the Performance of The Straumann PURE Ceramic Implant in Single Tooth Gaps in the Maxilla and Mandible. Poster 252 beim 22. Wissenschaftlichen Jahreskongress der European Association of Osseointegration, 17.-19. Okt. 2013, Dublin, Irland. 11. Gahlert M, Roehling S, Sprecher CM, Kniha H, Milz S, Bormann K. In vivo performance of zirconia and titanium implants: a histomorphometric study in mini pig maxillae. Clin Oral Implants Res. 2012 Mar;23(3):281-6. doi:10.1111/j.1600-0501.2011.02157.x. Epub 2011 Aug 2.