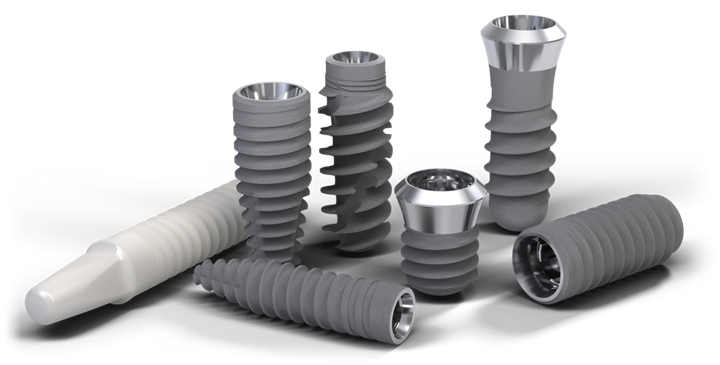 Materials of the Straumann® Dental Implant System 

For every indication and every need.

Looking for the long-term proven standard, exceptional strength for reduced invasiveness or metal-free esthetics? In addition to our ground-breaking implant surfaces, we also offer a unique portfolio of different dental implant materials. For every indication and the patient's specific needs and requirements, you can choose between grade 4 titanium, Roxolid® or zirconia.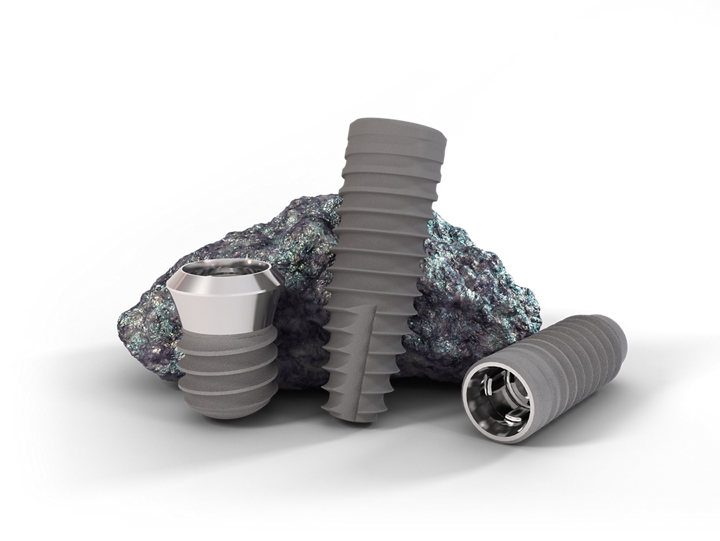 Straumann® Roxolid®

More than solid – Roxolid®. Reducing invasiveness.

Roxolid® is a high-performance alloy composed of 15 % zirconium and 85 % titanium, specifically designed by Straumann for use in implant dentistry. It features high tensile strength and excellent osseointegration capabilities, making it the material of choice for reduced invasiveness. Its properties allow for greater confidence and more treatment options through the placement of reduced diameter (Straumann® Bone Level Tapered Implant Ø 2.9 mm) and shorter (Straumann® Standard Plus 4 mm Short Implant) implants, especially in cases where bone augmentation can be avoided. 

Strength

Higher mechanical strength compared to titanium.1


Preservation

Preserves bone and less invasive grafting procedures.2,3


Flexibility

More treatment options with smaller implants.

Osseointegration

The excellent osseointegration properties of Roxolid® implants in combination with our SLActive® surface9,10 leads to reduced treatment complexity.4-7,11,12


Patient acceptance

Less invasive treatment plans (= faster healing and less post-operative discomfort) can help to overcome many patient doubts.


Evidence

The successful use of Roxolid® has been documented in numerous clinical trials with up to 5-year follow-ups.8

High-performance Zirconia

Engineered to outperform the gold standard.

For our Straumann® PURE Ceramic Implant system, we use high-performance zirconia ceramic. The innovative manufacturing process is followed by a 100% proof test where forces are applied that exceed the maximum human bite capability, and only implants that pass the test leave the production site. The successful use of Straumann® PURE Ceramic implants has been documented in numerous clinical indications. 
Strength

High-performance zirconia ceramic (Y-TZP) with higher fatigue strength than grade 4 titanium implants.13,14


Reliability

A 100% proof test is executed in which every single Straumann® PURE Ceramic Implant is tested mechanically before leaving the production site.14


Performance

Excellent clinical performance with 97.5 % survival and success rates after three years.15

References
1 Bernhard N et al., (2009). Forum Implantologicum 5(30). 2 Benic GI et al. 'Titanium-zirconium narrow-diameter versus titanium regular-diameter implants for anterior and premolar single crowns: 1-year results of a randomized controlled clinical study.' Journal of Clinical Periodontology 2013; [Epub ahead of print] 3 Freiberger P, Al-Nawas B. 'Non-interventional Study on Success and Survival of TiZr Implants.' EAO 2012 Copenhagen; 305 Posters – Implant Therapy Outcomes, Surgical Aspects. 4 Al-Nawas B et al. (2012). Clin Implant Dent Relat Res 14(6):896-904. 5 Müller F et al. (2015). BMC Oral Health. 2015 Oct 12;15(1):123. 6 Quirynen M et al. (2015). Clin Oral Implants Res. Jul;26(7):831-40. 7 Altuna P et al., (2016). Int. J. Oral Maxillofac. Surg; in press. http://dx.doi.org/10.1016/j.ijom.2016.01.004 8 http://www.straumann.com/science-roxolid.html 9 Schwarz F et al., (2007); J Periodontol 78(11):2171-2184. 10 http://www.straumann.com/science-slactive.html 11 Gottlow J et al., (2012); Clin Implant Dent Relat Res 14 Suppl 1:e204-e212. 12 Wen B et al., (2014); Clinical Oral Implants Research. Jul;25(7):819-25. High-performance Zirconia 13 Institut Straumann AG, Straumann® PURE Ceramic Implants A 100 % proof test ensures reliable implant strength. 03/14 490.028/en/B/001. www.straumann.com. 14 Bormann KH, Gellrich NC, Kniha H, Dard M, Wieland M, Gahlert M. Biomechanical evaluation of a microstructured zirconia implant by a removal torque comparison with a standard Ti-SLA implant. Clin Oral Implants Res. 2012 Oct;23(10):1210-6. doi: 10.1111/j.1600-0501.2011.02291.x. Epub 2011 Nov 14. 15 Bormann KH, Gellrich NC, Kniha H, Schild S, Weingart D, Gahlert M. A Prospective Clinical Study to Evaluate the Performance of Zirconium Dioxide Dental Implants in Single Tooth Gaps in the Maxilla and Mandible: 3-Year Results. Publication in preparation 2017.