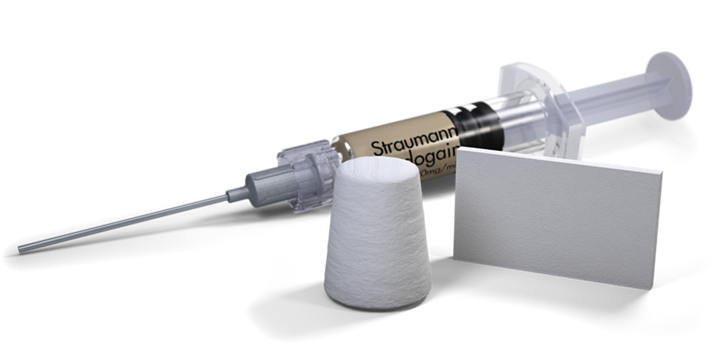 Letteratura selezionata
Trattamento dei tessuti molli
Le nostre spugne in collagene favoriscono la guarigione delle ferite con un effetto altamente emostatico , mentre l'innesto di tessuto molle mucoderm è una reale alternativa al tessuto connettivo proprio del paziente in determinate indicazioni.

botiss mucoderm®, in alcune indicazioni, offre un'alternativa reale al tessuto connettivo proprio del paziente. Questo sostituto di tessuto molle stabile, tridimensionale, a base di collagene derivato da derma suino, favorisce una vascolarizzazione rapida e l'integrazione del tessuto molle, compresi colore e consistenza. mucoderm® è stato usato con successo in oltre 20.000 trattamenti.
Non si garantisce la completezza.

The influence of various rehydration protocols on biomechanical properties of different acellular tissue matrices. Kasaj A, Levin L, Stratul SI, Götz H, Schlee M, Rütters CB, Konerding MA, Ackermann M, Willershausen B, Pabst AM. Clin Oral Investig. 2016 Jul;20(6):1303-15. 
Soft tissue volume alterations after connective tissue grafting at teeth. The subepithelial autologous connective tissue graft (SCTG) vs. a porcine collagen matrix (CM). A preclinical volumetric analysis. Schmitt CM, Matta RE, Moest T, Humann J, Gammel L, Neukam FW, Schlegel KA. J Clin Periodontol. 2016 Jul;43(7):609-17.
Healing of localized gingival recessions treated with a coronally advanced flap alone or combined with an enamel matrix derivative and a porcine acellular dermal matrix: a preclinical study. Shirakata Y, Sculean A, Shinohara Y, Sena K, Takeuchi N, Bosshardt DD, Noguchi K.  Clin Oral Investig. 2016 Sep;20(7):1791-800

Changes of the peri-implant soft tissue thickness after grafting with a collagen matrix. Zafiropoulos GG, Deli G, Hoffmann O, John G. J Indian Soc Periodontol. 2016 Jul-Aug;20(4):441-445. 
Clinical evaluation of a porcine acellular dermal matrix for the treatment of multiple adjacent class I, II, and III gingival recessions using the modified coronally advanced tunnel technique. Cosgarea R, Juncar R, Arweiler N, Lascu L, Sculean A. Quintessence Int. 2016;47(9):739-47. 

Tunnel Technique With Collagen Matrix Compared With Connective Tissue Graft for Treatment of Periodontal Recession: A Randomized Clinical Trial. Cieślik-Wegemund M, Wierucka-Młynarczyk B, Tanasiewicz M, Gilowski Ł. J Periodontol. 2016 Dec;87(12):1436-1443. Epub 2016 Jul 17. 

Evaluation of a porcine collagen matrix to create new keratinized tissue at deficient implant sites: 12 months results from a controlled prospective clinical study. Stricker A, Rothamel D, Stübinger S, Fleiner J. Clin. Oral Impl. Res. 25 (Suppl. 10), 2014 (poster) 

The influence of mucosal tissue thickening on crestal bone stability around bone-level implants. A prospective controlled clinical trial. Puisys A, Linkevicius T. Clin Oral Implants Res. 2015 Feb;26(2):123-9. 

botiss Jason® fleece e botiss collacone® sono spugne in collagene naturale con un'azione emostatica locale estremamente efficace. Stabilizzano il coagulo e minimizzano il rischio di sanguinamenti secondari.

Non si garantisce la completezza.

Impact of matrix compactness on tissue integration, blood vessel invasion and biodegradation of porcine collagen matrices – an experimental study in the rat. Fienitz T, Rothamel D, Barth Y, Neugebauer J, Kreppel M, Happe A, Zöller J Clin Oral Impl. Res 25(10). 2014. Poster 228. 
Efficacy and Biocompatibility of Jason® Collagen Fleece for Haemostasis after Iliac Crest Harvesting of Autologous Cancellous Bone – An Observationional Clinical Study. Fleege C., Schmidt J., Schmidt I., Zukowski D. and Rauschmann M European Musculoskeletal Review 7(4):240-242 January 2012. 

Prevention of post-operative bleeding in hemostatic compromised patients using native porcine collagen fleeces-retrospective study of a consecutive case series. Zirk M, Fienitz T, Edel R, Kreppel M, Dreiseidler T, Rothamel D.  Oral Maxillofac Surg. 2016 May 2.