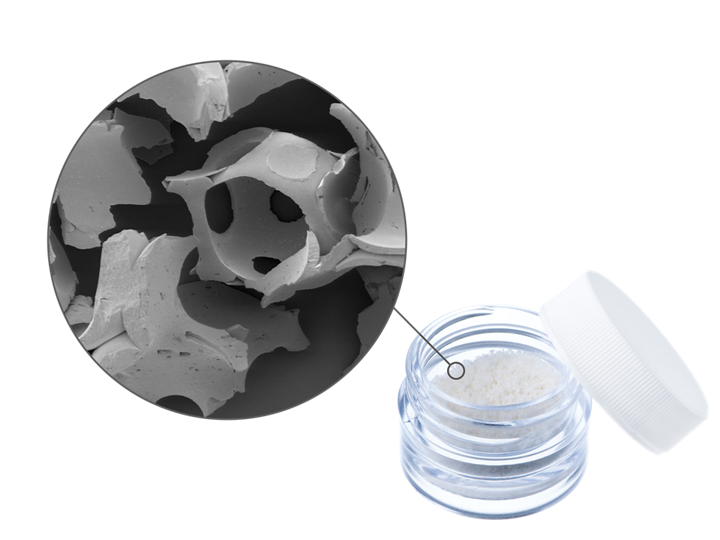 Straumann® BoneCeramic® 

Building the foundation for success.

Straumann® BoneCeramic® is one of the most documented alloplastic bone substitutes on the market, offering a state-of-the-art scaffold with resorption for vital bone regeneration without compromising on volume preservation. With its slow and controlled resorption properties and its homogenous composite of HA and ß-TCP (60/40%) it is an excellent choice for you and your patients in virtually any clinical situation. Since it is fully synthetic, the quality is consistent and reproducible.


Handling

Mixes well with autogenous blood, bone or saline. Retains liquids, facilitating quick and extensive wetting of particles with blood. Adheres to application instrument. Nicely conforms to the bony defect.


Morphology

Optimized 90% porosity designed to promote vascularization, osteoblast migration and, subsequently, bone deposition. Its high porosity and minimum amount of material leave maximum space for new bone.


Predictability

Consistent and reproducible sterile biphasic calcium phosphate, fully synthetic and biocompatible. Batch-to-batch consistency. Zero risk of disease transmission.


Biofunctionality

60% hydroxyapatite (HA) is a strong matrix for long-term bone volume preservation, preventing excessive resorption and preserving the bone volume. 40% ß-tricalcium phosphate (ß-TCP) for rapid initial bone-forming cell response for faster resorption and replacement by natural bone.

A prefabricated ring of processed allogenic donor bone that is placed press-fit into a trephine drill-prepared ring bed. This is an innovative solution for 3-dimensional vertical augmentation of bone defects allowing a single-stage graft and implant placement. The simultaneous implant placement saves you and your patient time and a surgical step compared to a conventional bone block, reducing chair time compared to a bone block, eliminating the need for a second harvesting site and shorter time-to-teeth. The Straumann® AlloGraft Ring technique can be used with the Straumann® Bone Level and Bone Level Tapered implants, different heights and outer/inner diameters are available.

Efficiency

Simultaneous bone augmentation and implant placement significantly reduces chair time (by 45 to 60 minutes) compared to a bone block.


Biofunctionality

The allogenic bone with its open porous structure and the close contact with bone promotes the fast ingrowth of vessels and remodeling in the patient's natural bone. 

Design

The Straumann® AlloGraft Ring  is ideally suited for reconstructions of the anatomical shape of the jaw.

Comfort

Eliminates the need for second harvesting site with all the associated complications of autogenous blocks.

Cost efficiency

Shorter time-to-teeth reduces the overall treatment costs.

Straumann collects your information to facilitate the commercial relationship, contact you regarding future product offerings and promotion and all other permissible business purposes. Please see our Privacy Policy for more information.