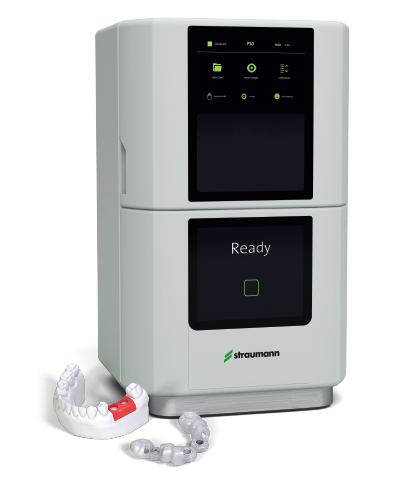 NEW!
Straumann® CARES®
P series 3D Printers
Surgical EFFICIENCY, redefined.
Fast, reliable, precise 3D printed immediacy solutions.
Fast. Reliable. Precise. New Straumann® CARES® P series 3D printers and centralized printing service deliver immediacy solutions faster than you have ever imagined.
Tailored to meet the highest demands in dental labs and clinical practices, Straumann® CARES® printing solutions produce surgical guides, implant models and gingiva masks with top-quality precision and speed. Redefine your surgical efficiency with 3D printed immediacy solutions from the dental innovation leader.
Straumann® CARES® printing solutions do all the work. You get all the credit.
Reliability

Simple and intuitive to use. Sturdy and durable technology prints 2 dental implant models in approximately 45 minutes.



Speed

2 surgical guides printed in approximately 16 minutes. 15 natural-looking gingiva masks printed in approximately 15 minutes.

Flexibility

Open system. Multiple applications in one unit. Material change in less than 30 seconds. Centralized printing available.



Immediacy

Reduce your total treatment time for implant placement with quick, reliable access to precise immediacy solutions.