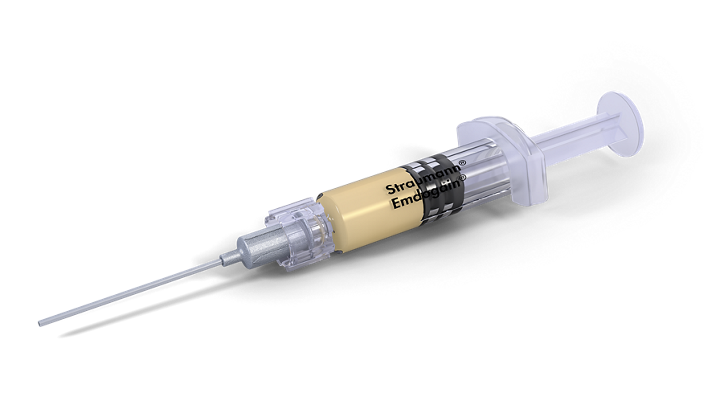 Bringing biology to oral surgery.
Straumann® Emdogain® is a mix of enamel matrix proteins that, when applied to a clean tooth root surface, form an extracellular matrix that stimulates cells and processes that are fundamental for periodontal regeneration1. Numerous scientific studies provide clinical evidence of the application of Straumann® Emdogain® in different indications such as periodontal regeneration and gingival recession. 

Peace of Mind

Straumann® Emdogain® is backed by extensive and long-term clinical documentation. Over the past 20 years it has been used in over 2 million patients and is documented in over 1,000 scientific publications, including 600 clinical publications.4


Handling

As it is a gel, Straumann® Emdogain® is easy to apply, even when the defect is difficult to access.

Comfort

Straumann® Emdogain® leads to better tooth prognosis and esthetic results. Less post-surgical discomfort3 such as pain or swelling is reported after a procedure with Emdogain® compared to the same procedure without Straumann® Emdogain®.


Predictability

Straumann® Emdogain® leads to significantly improved clinical parameters in intraosseous defects5 and root coverage procedures9, including in the long term8.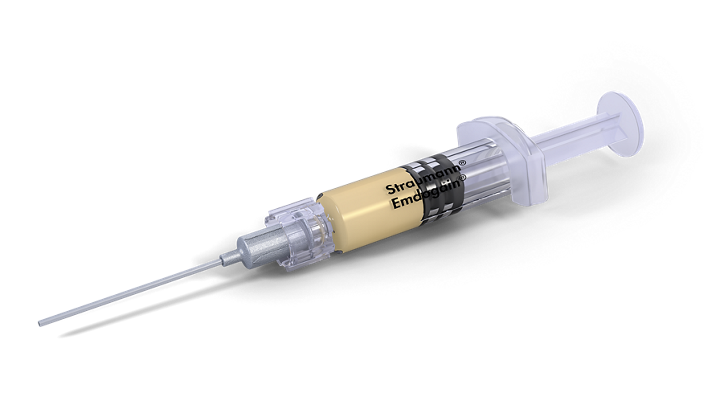 Orchestrating periodontal regeneration.
Straumann® Emdogain® is designed to be used as an adjunct to surgical periodontal procedures. As demonstrated by human histological studies2, it promotes the predictable regeneration of cementum, periodontal ligament, and alveolar bone lost due to periodontal disease or trauma, thereby significantly improving the clinical outcome of your periodontal treatment (compared with an open flap debridement procedure alone)3 as shown by long-term clinical studies.4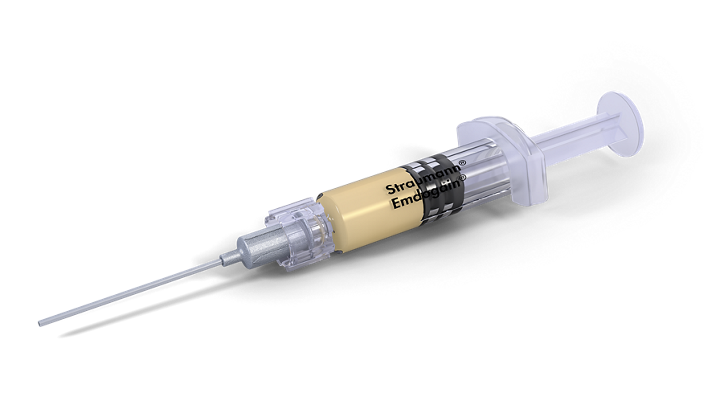 Reverse gum recession naturally.
Root coverage is becoming an increasingly frequent treatment request, mostly due to growing esthetic demands of patients. Adding Straumann® Emdogain® to your root coverage surgical procedure means improved esthetic results thanks to more root coverage5 * – including in the long term6 – and more keratinized tissue formation5. Using Straumann® Emdogain® during your root coverage procedure instead of a connective tissue graft (CTG) may lead to comparable long-term clinical results6 as well as improved patient comfort. 
*compared to a treatment without Straumann® Emdogain®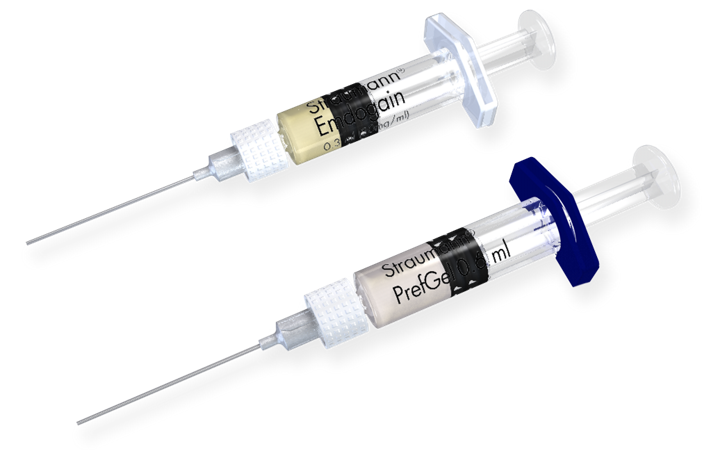 True periodontal regeneration can be achieved in a minimally invasive way.
Based on decades of clinical experience, periodontal pockets can be regenerated through minimally invasive periodontal procedures with Emdogain MI.  Differentiate your practice and help your patients by offering a minimally invasive, regenerative, periodontal treatment with Straumann Emdogain MI.
Straumann collects your information to facilitate the commercial relationship, contact you regarding future product offerings and promotion and all other permissible business purposes. Please see our Privacy Policy for more information.
Patient Marketing Materials
References
1 Bosshardt DD. Biological mediators and periodontal regeneration: a review of enamel matrix proteins at the cellular and molecular levels. J Clin Periodontol. 2008 Sep;35(8 Suppl):87-105. 2 Sculean A, Chiantella GC, Windisch P, Donos N. Clinical and histologic evaluation of human intrabony defects treated with an enamel matrix protein derivative (Emdogain). Int J Periodontics Restorative Dent. 2000 Aug;20(4):374-81. 3 Jepsen S, Heinz B, Jepsen K, Arjomand M, Hoffmann T, Richter S, Reich E, Sculean A, Gonzales JR, Bödeker RH, Meyle J. A randomized clinical trial comparing enamel matrix derivative and membrane treatment of buccal Class II furcation involvement in mandibular molars. Part I: Study design and results for primary outcomes. J Periodontol. 2004 Aug;75(8):1150-60. 4 according to PUBMED search for "Emdogain" OR "enamel matrix derivative" 5 Tonetti MS, Lang NP, Cortellini P, Suvan JE, Adriaens P, Dubravec D, Fonzar A, Fourmousis I, Mayfield L, Rossi R, Silvestri M, Tiedemann C, Topoll H, Vangsted T, Wallkamm B. Enamel matrix proteins in the regenerative therapy of deep intrabony defects. J Clin Periodontol. 2002 Apr;29(4):317-25. 6 Sculean A, Kiss A, Miliauskaite A, Schwarz F, Arweiler NB, Hannig M. Ten-year results following treatment of intra-bony defects with enamel matrix proteins and guided tissue regeneration. J Clin Periodontol. 2008 Sep;35(9):817-24. 7 Pilloni A, Paolantonio M, Camargo PM. Root coverage with a coronally positioned flap used in combination with enamel matrix derivative: 18-month clinical evaluation. J Periodontol. 2006 Dec;77(12):2031-9. 8 McGuire MK, Scheyer ET, Nunn M. Evaluation of human recession defects treated with coronally advanced flaps and either enamel matrix derivative or connective tissue: comparison of clinical parameters at 10 years. J Periodontol. 2012 Nov;83(11):1353-62.