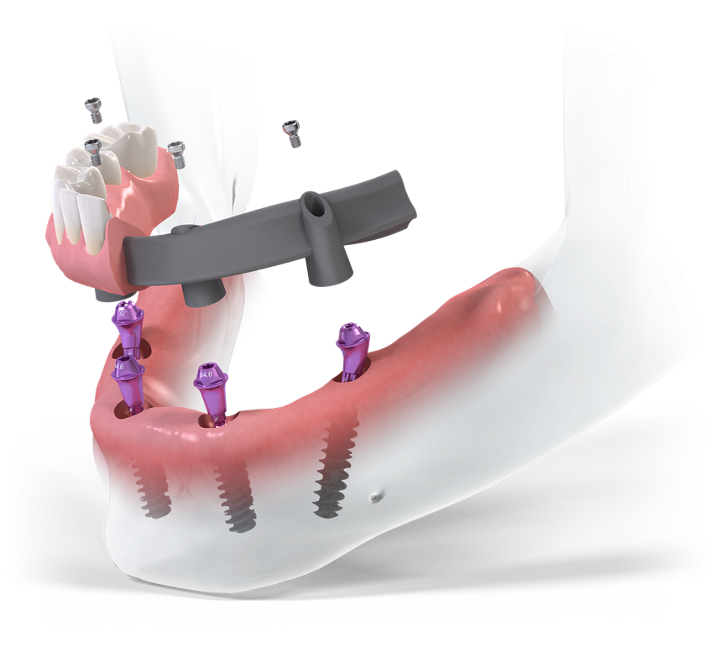 Straumann® Pro Arch
Tailored to fit. Designed to last. 
Straumann® Pro Arch is our treatment concept for immediate temporary restorations in edentulous patients with limited bone availability. It respects individual patient needs and expectations, offering dental professionals all the implant and prosthetic components needed – at both bone and soft tissue level – to provide a seamless treatment. With our key technologies Roxolid®  and SLActive®  you receive a unique combination of strength and predictability.1-10

Treatment options

Variety of treatment options to address specific indications and different patient's needs.

SLActive® for compromised patients

Peace of mind treating even compromised patients emerging success in diabetic and irradiated patients.  Learn more about SLActive® >

Reduced invasiveness* with Roxolid®

Narrow and short implants enable clinicians to preserve the bone and avoid bone grafting in some clinical situations with low bone volume. Learn more about Roxolid®

Practice growth

Immediate loading offering, patient communication and practice growth tools can support your practice growth.
*When GBR can be avoided.


Discover Dr. Eckert's interview on Straumann® Pro Arch Retrospective Study
1 French D, Cochran DL, Ofec R. Retrospective Cohort Study of 4,591 Straumann Implants Placed in 2,060 Patients in Private Practice with up to 10-Year Follow-up: The Relationship Between Crestal Bone Level and Soft Tissue ConditionInt J Oral Maxillofac Implants. 2016 Nov/Dec;31(6):e168-e178 2 Cochran D, Stavropoulos A, Obrecht M, Pippenger B, Dard M.A Comparison of Tapered and Nontapered Implants in the Minipig.  Int J Oral Maxillofac Implants. 2016 Nov/Dec;31(6):1341-1347. 3 Piano S, Romeo E, Sbricoli L, Pisoni G, Cea N, Lops D.Simplified procedure for the immediate loading of a complete fixed prosthesis supported by four implants in the maxillary jaw: a 2-year prospective study.   Clin Oral Implants Res. 2016 Dec;27(12):e154-e160 4 Huynh-Ba G, Meister DJ, Hoders AB, Mealey BL, Mills MP, Oates TW, Cochran DL, Prihoda TJ, McMahan CA. Esthetic, clinical and patient-centered outcomes of immediately placed implants (Type 1) and early placed implants (Type 2): preliminary 3-month results of an ongoing randomized controlled clinical trial.  Clin Oral Implants Res. 2016 Feb;27(2):241-52 5 Marković A, Čolić S, Šćepanović M, Mišić T, Ðinić A, Bhusal DS.A 1-Year Prospective Clinical and Radiographic Study of Early-Loaded Bone Level Implants in the Posterior Maxilla Clin Implant Dent Relat Res. 2015 Oct;17(5):1004-13. 6 Sanz M, Ivanoff CJ, Weingart D, Wiltfang J, Gahlert M, Cordaro L, Ganeles J, Bragger U, Jackowski J, Martin WC, Jung RE, Chen S, Hammerle C. Clinical and Radiologic Outcomes after Submerged and Transmucosal Implant Placement with Two-Piece Implants in the Anterior Maxilla and Mandible: 3-Year Results of a Randomized Controlled Clinical Trial.   Clin Implant Dent Relat Res. 2015 Apr;17(2):234-46 7 Filippi A, Higginbottom FL, Lambrecht T, Levin BP, Meier JL, Rosen PS, Wallkamm B, Will C, Roccuzzo M. A prospective noninterventional study to document implant success and survival of the Straumann Bone Level SLActive dental implant in daily dental practice. Quintessence Int. 2013 Jul;44(7):499-512. 8 Cochran DL, Mau LP, Higginbottom FL, Wilson TG, Bosshardt DD, Schoolfield J, Jones AA. Soft and hard tissue histologic dimensions around dental implants in the canine restored with smaller-diameter abutments: a paradigm shift in peri-implant biology. Int J Oral Maxillofac Implants. 2013 Mar-Apr;28(2):494-502. 9 Buser D, Chappuis V, Kuchler U, Bornstein MM, Wittneben JG, Buser R, Cavusoglu Y, Belser UC. Long-term stability of early implant placement with contour augmentation.  J Dent Res. 2013 Dec;92(12 Suppl):176S-82S. 10 Santing HJ, Raghoebar GM, Vissink A, den Hartog L, Meijer HJ. Performance of the Straumann Bone Level Implant system for anterior single-tooth replacements in augmented and nonaugmented sites: a prospective cohort study with 60 consecutive patients. Clin Oral Implants Res. 2013 Aug;24(8):941-8. 11 Eckert SE, Hueler G, Sandler N, Elkattah R, McNeil DC. Immediately Loaded Fixed Full-Arch Implant-Retained Prosthesis: Clinical Analysis When Using a Moderate Insertion Torque. Intl J Oral Maxillofac Implants. 2019 Jan 31.