Straumann Corporate Forum
Thursday, 16 June 2022 | 12.30 – 14.00 | Plenary Hall | Hall D
Prof. Frank Schwarz will chair this session with two world-renowned experts, Prof. Ronald Jung and Prof. Helena Francisco, who will discuss the advantages of immediate treatment protocols in various clinical indications, with a special emphasis on effective soft tissue management.
We're looking forward to welcoming you on 16 June! Grab your free lunch box*, sit back and enjoy this interesting session.
Clinical decisions for immediate treatment protocols.
The clinical management of peri-implant tissues around immediate implants is crucial in modern implant dentistry as it can substantially influence the treatment outcomes, especially in the esthetic zone. This corporate symposium will comprehensively discuss the advantages of immediate treatment protocols in various clinical indications, emphasizing effective soft tissue management. From single to full-arch restorations, you will see the different clinical applications of the Straumann implants, with particular attention to the management and maintenance of the peri-implant tissues.
* while stock lasts
 
Chair: Prof. Frank Schwarz (DE)
Professor and Head of the Department of Oral Surgery and Implantology at the Centre for Dentistry and Oral Medicine (Carolinum), Johann Wolfgang Goethe-University Frankfurt, Germany.
Are immediate implants "trendy" again?
Prof. Ronald Jung, Zürich (CH)
PhD Head of Division of Implantology at the Clinic of Reconstructive Dentistry, Center of Dental Medicine, University of Zurich.

Trained in oral surgery, prosthodontics and implant therapy.

Accomplished and internationally renowned lecturer and researcher, best known for his work in the field of hard and soft tissue management and his research on new technologies in implant dentistry. 

President Elect of the EAO, Past President of the Swiss Society of Reconstructive Dentistry and member of the Board of Directors of the Osteology Foundation.
The patient-centric approach in immediate full arch rehabilitation
Prof. Helena Francisco (PT)
Professor Helena Francisco acquired a Ph.D. from the University of Lisbon, School of Dental Medicine. 

She received the Postgraduate Certificate in Periodontology and Implant Dentistry from the New York University College of Dentistry (USA) and is a member of the Research Group for Oral Biology and Biochemistry Research Unit in Oral and Biomedical Sciences. 

Besides practicing dentistry, Professor Francisco also works as an Assistant Professor and co-coordinator of the Oral Surgery and Implant Dentistry Post-graduate Program at the School of Dental Medicine at the University of Lisbon. 

She has authored several posters, as well as national and international publications.
Straumann – Oral-B Symposium
Friday, 17 June 2022 | 14.30 – 16.00 | Room Break Out 1 | Hall C

Limiting periodontal and peri-implant diseases during and beyond the Pandemic: from the chair to self-care
The Sponsored Scientific Session "Limiting periodontal and peri-implant diseases during and beyond the pandemic: from the chair to self-care." will be presented by Prof. Martina Stefanini (University of Bologna), Dr. Giorgio Pagni (University of Milan), and Prof. Filippo Graziani (University of Pisa). The focus of the symposium will be on preventive clinical and self-care for the life cycle of the implant and general periodontal health.
Chair: Dr. Martina Stefanini (IT)
Periodontologist and researcher (with Prof. Giovanni Zucchelli at the University of Bologna, Italy, currently in a Research Fellow position). Level II Master in Periodontology from the University of Siena (Italy). Ph.D. in Medical Sciences from the University of Bologna. Teaching Professor at the postgraduate program in Periodontology at the San Raffaele University in Milano, Italy, and the Level II Master in Soft Tissue management at the University of Bologna. An active member of the Italian Society of Periodontology. Scientific author and speaker on a national and international level.
Novel strategies for prevention of peri-implant biological complications
Dr. Giorgio Pagni (IT)
The aim of the lecture is to understand the principles that could lead to biological complications around teeth and implants and to analyze different strategies for the prevention of such complications.
Objectives:
understanding the role of the bacterial biofilm in the pathogenesis of periodontal and peri-implant disease
understanding the impact of different clinical and domestic strategies on biofilm growth
analyze the efficacy and user-friendliness of different tools for dental plaque removal
discuss the applicability of novel protocols to the prevention of biological complications in susceptible patients.

New insights in the management of gingivitis and periodontitis: the importance of the overall well-being

Prof. Filippo Graziani (IT)
Periodontal diseases significantly affect oral and systemic health. Clinical analysis reveals how often bleeding, halitosis and receding gums are present. Nevertheless, these diseases are not only limited to the local as often subjects with periodontitis showed significant deterioration of their capabilities to enjoy some important possibilities of life. Subjects with periodontitis have a less chewing function, an effect on their aesthetic perception which determines a detrimental effect on their capabilities to liaise with other human beings and thus affects their sociality and their nearness.
Periodontal treatment has been shown to improve the perception of the quality of life. This effect is significant and irrespective of the type of delivery provided. These findings have been recently duplicated in patients affected by gingivitis confirming that resolution of gingival diseases is associated with amelioration of quality of life and reduction of systemic inflammation.
Clinicians should be aware of these social and psychological aspects and assess and monitor them throughout the treatment of the disease, as well as invest time in providing effective oral hygiene to their patients. The aim of this speech should be to highlight the available evidence and to provide original data on the management of these diseases with the adjunct of regenerative devices in terms of overall well-being in a post-pandemic era.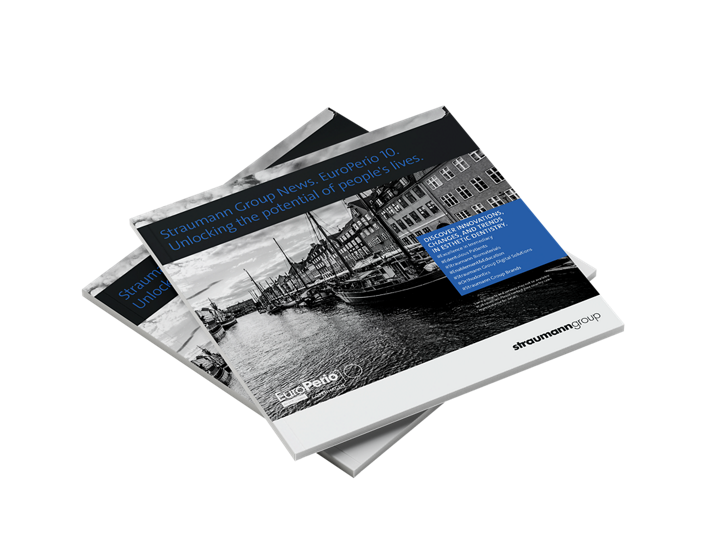 Join us on a journey to unlock the potential of people's lives.
Straumann Group at EuroPerio 10
Copenhagen, 15 – 18 June 2022