NeoArch® offers immediate, reliable and top quality fixed edentulous solutions based on the proven product concepts at an affordable cost.
High stability allows immediate function
Tapered body and progressive square-shape threads designer to provide great initial mechanical stability.
Double thread for faster implant insertion.


Acqua, the hydrophilic surface, is designed to increase wettability.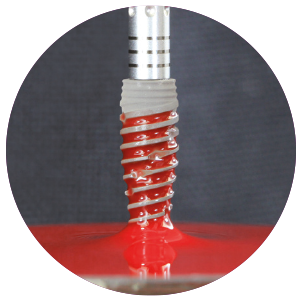 Acqua
Hydrophilic Surface
Cone Morse connection provides mechanical stability and bacterial sealing in vitro studies 
Deep Cone Morse connection transfers load distribution down to the apex
and offers high resistance and excellent abutment stability.

Conical seal designed to prevent bacteria migration into the implant.

The one prosthetic connection for all implants regardless of diameter or thread style simplifying the management of the portfolio.

Platform switching proven concept preserves the bone level supporting the peri-implant tissue. 
Versatile CM Mini Conical Abutment
A broad range of options of gingiva heights to cater your patients'needs.

6 options for the straight abutment; 3 options for the 17° and 30° angulated abutment each.

Options of index and non-index CM mini conical abutment offer flexibility
to locate the final position.

Cone Morse connection enhances the implant abutment seating's efficiency
and stability.