Business model & objectives
Vision, strategy, core behaviors
STRAUMANN GROUP IN BRIEF
WHO WE ARE, WHAT WE DO AND WHERE WE DO IT
Headquartered in Basel, Switzerland, the Straumann Group is a global leader in tooth replacement and orthodontic solutions. It unites global and international brands that stand for excellence, innovation and quality in tooth replacement and esthetics, including Straumann, Neodent, Medentika, ClearCorrect, Dental Wings and other fully or partly owned companies and partners.
The Group develops, manufactures and supplies dental implants, instruments, biomaterials, CADCAM prosthetics, digital equipment, software, and clear aligners for applications in replacement, restorative, orthodontic and preventative dentistry. Its principal production sites for implant components and instruments are in Brazil, Germany, India, Switzerland and the US, while CADCAM prosthetics are milled in Brazil, China, Germany, Japan and the US. Biomaterials are produced in Sweden, digital equipment in Canada and Germany, and clear aligners in the US.
As a total solution provider, the company takes a holistic approach, offering training, support and a wide range of services to dental practitioners, clinics and laboratories all over the world. It is recognized as a leading innovator and works together with universities, clinics, research institutes, networks and communities to enhance the standard of patient care. Through a unique collaboration with academic partners like the ITI and ILAPEO, Straumann supports research and offers training and education to dental professionals.
The Group employs 4881 people worldwide. Its products, solutions and services are available in more than 100 countries through a broad network of distribution subsidiaries and partners. More than 90% of the business is conducted directly through fully-owned subsidiaries.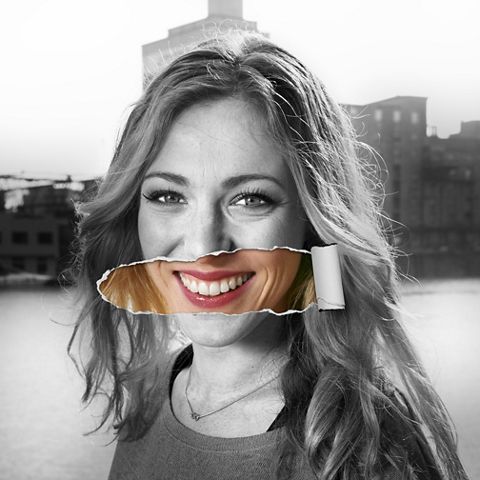 OUR VISION
Confidence relates to all our activities; it is built on trust, integrity, respect, communication, transparency, collaboration and delivering what we promise. For our customers, it means peace of mind, because our solutions are predictable and durable. For our employees, confidence means secure, rewarding jobs. For our shareholders, it means sustainable returns from a highly ethical business. For the communities in which we operate, confidence means that we care for the world around us as a responsible corporate citizen. For all our stakeholders it means that Straumann is a reliable partner.
We want to be the first place that people come to do business, to find genuine solutions, to turn ideas into reality, to learn, master, succeed and improve lives. This is what being the partner of choice means for us.
We are committed to being the premium partner of choice in tooth replacement and esthetic dentistry, offering education, innovation, quality, support, expertise, clinically proven long-term success, and peace of mind.
At the same time, we are a global leader in the non-premium segment, making high quality implant and prosthetic solutions more affordable to a broader population through our Neodent, Medentika, Equinox, Zinedent, and Anthogyr brands.
We are also committed to being the partner of choice in biomaterials, digital dentistry and clear aligners.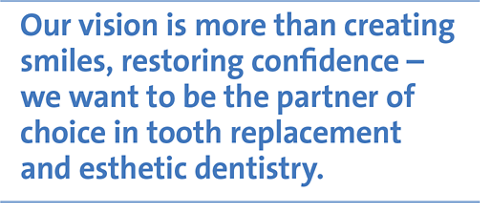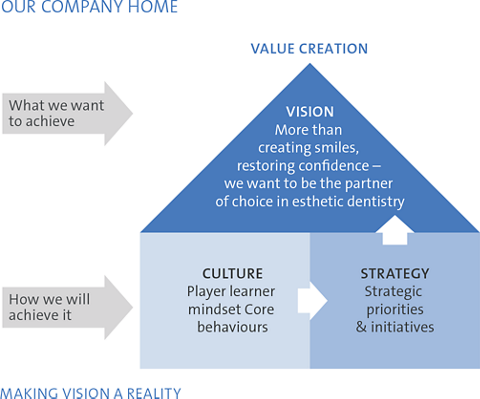 A PLAYER-LEARNER MINDSET
The right mindset is a prerequisite for the high-performance culture we are striving to build. Our main thrust over the past four years has been to inspire and foster a player-learner mindset throughout our workforce. Player-learners inspire trust; they are energized and embrace change; they listen, find out, share, collaborate, take risks, find solutions, learn by doing, encourage and celebrate.

CORE BEHAVIORS BUILT ON LONG-HELD VALUES
Building on the values that have made Straumann what it is today, we focus on the following eight core behaviors that apply for all employees in the Straumann Group:
Focus on customers

Collaborate

Take ownership

Create opportunities

Build trust

Engage

Communicate effectively

Be agile.
Our tradition of 'simply doing more' is an integral part of the Straumann brand; it is at the heart of these behaviors, and is the overriding principle for everything we do.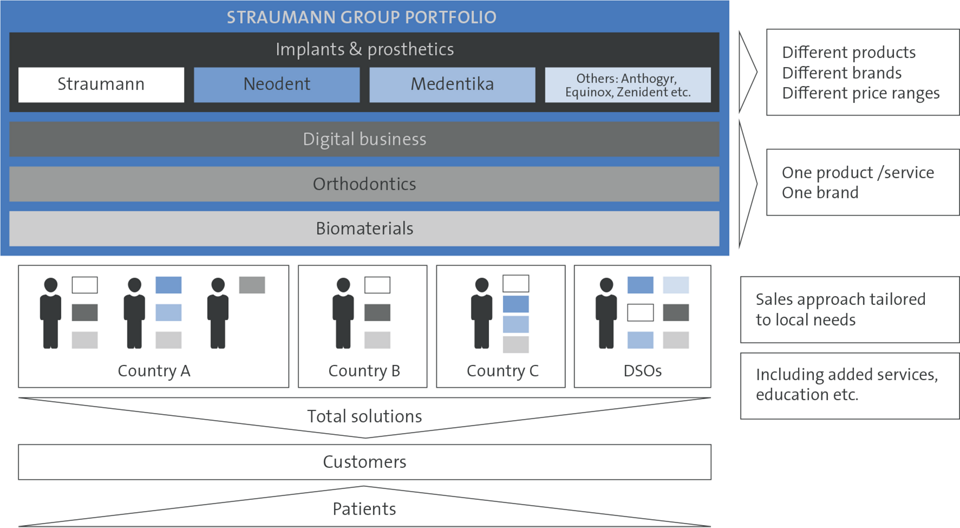 The new Straumann Group structure (outlined on the left) enables us to provide comprehensive solutions that include a range of implant and prosthetic systems - covering all price requirements, CADCAM prosthetics, digital equipment and workflows, biomaterials, orthodontic treatments and various services e.g. training and education. The portfolio mix, strategy and sales team approach is tailored for local markets by the Regions with the goal of balancing the premium and non-premium business to gain maximum market share.
We produce most of our products in house and sell them to dental professionals either directly or through distribution partners. Our customers are specialists, general dentists, dental laboratories and dental chains/service organizations (DSO). Patients are usually addressed by general dentists, who often decide on the type of treatment and system, and specialists.
OUR BRAND
STRAUMANN GROUP – UNITING GLOBAL EXCELLENCE IN DENTISTRY
Our journey into new segments, geographies and technologies has turned Straumann into a global Group of national and international brands, companies and partners. To unite them and to provide a common identity we created the 'Straumann Group' umbrella brand at the outset of 2017. This creates value for the individual brands, companies and partners by allowing them to benefit from Straumann's global reputation – without compromising our premium brand, which has retained its distinctive identity and positioning.
We introduced the new Group brand quickly and with minimum investment because no changes to product names, brands or legal entities were required. As the year progressed, it became clear that the umbrella brand would allow us to bring our premium and non-premium businesses closer together, reducing complexity, creating synergies, opening up selling opportunities, and benefitting customers and patients .
By year-end, we started to integrate our Instradent subsidiaries and to simplify internal processes, making ordering, delivery and invoicing more efficient. We created a single E-shop for all brands and are now able to provide our digital solutions and biomaterials to all customers irrespective of which implant system they purchase from us. With Instradent incorporated, our Group brand architecture looks like this: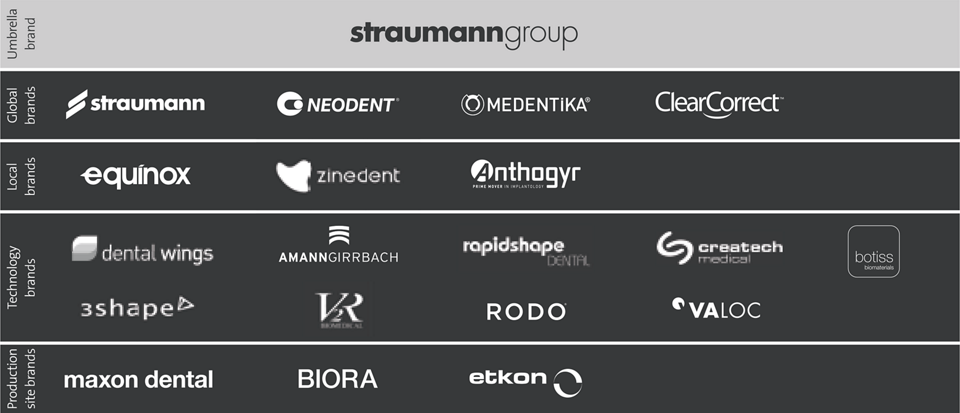 The Straumann Group unites various global and local/regional product brands with a number of fully/partially owned companies and independent partners, which provide technology and manufacturing expertise.