Strategy in action
Beyond tooth replacement – esthetic dentistry
At the heart of our strategy are three key priorities, which are reviewed annually by the Board of Directors. They translate into a number of clearly defined initiatives and deliverables, which are continuously tracked and adjusted as necessary. We do not disclose the initiatives, although most of them are reflected in the activities, investments, product launches, development pipeline and achievements featured in this report.
Having come close to our goal of being a total solution provider in tooth replacement, we started looking into attractive complementary fields as a potential source for further growth and synergies. As a result, we decided to broaden our scope from 'tooth replacement' to 'esthetic dentistry' which includes orthodontics, the field of dentistry devoted to the prevention and correction of irregular teeth, using braces, brackets, and aligners.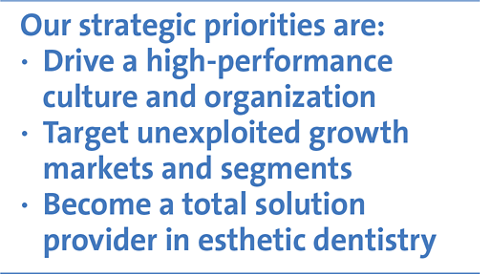 STRATEGY EXECUTION
A HIGH-PERFORMANCE CULTURE
High performance organizations consistently outperform, continually innovate and steadily improve. They create opportunities, unlock the potential of employees and use resources and energies effectively without waste. They are agile and collaborate as an aligned team. These are the main characteristics of the culture we want to establish throughout the Straumann Group.
In 2017, we continued to promote the player-learner mindset and core behaviors that are central to the high performance culture that will drive our future success. We extended our program of workshops and training modules internationally, but did not reach our target of 40% staff participation due to the significant expansion of our organization. The player-learner mindset remains at the heart of everything we do. We will complement it with a program to foster a commercial mindset and entrepreneurial excellence, which we piloted in 2017 and will roll out in 2018.
Our annual staff survey, which is an indicator of our progress towards this strategic goal, yielded higher or equal scores than in 2016. 86% of respondents said they understood our strategy, 88% said they actively supported our Cultural Journey and 72% observed positive changes in our culture.
Further examples of cultural change can be found in the open-minded, entrepreneurial approach to new strategic initiatives – like our entry into orthodontics, our investment into digital, and the convergence of our premium and non-premium activities – which were previously strictly segregated.
However, the most significant evidence of this strategy in action can be seen in our operational performance, innovation pipeline, execution of strategic priorities, and our ability to forge partnerships and build talent.
TARGETING UNEXPLOITED GROWTH MARKETS AND SEGMENTS

In order to serve customers directly and to unlock the full potential of our business, we established new subsidiaries in Iran and India. We also signed an agreement to acquire our distributor in Turkey, adding more than 200 trained professionals to drive our business in this market, which – like Iran – is highly attractive and underpenetrated. Together they account for more than 1 million implants annually. In addition, we announced plans to open a subsidiary in South Africa early in 2018.
Our ambition to enter the Indian market became a reality following the acquisition of Equinox at the end of 2016. Leveraging the Equinox infrastructure, we established Straumann Group India and launched the Straumann premium brand in December 2017.
We continued to invest in fast-growing markets like China and Russia, adding people and bringing key products to market. In Russia, we opened additional regional offices, gained important regulatory approvals and took initial steps into the value segment.
Having gained a foothold in the dental service organization (DSO) segment in 2015 by offering value and premium ranges together with tailored service solutions, we vigorously pursued our strategy, enabling us to win a number of leading chains in Europe. DSOs account for an increasing portion of the market due to the growth of dental chains and networks. These range from group practices to international networks of fully integrated clinics with significant purchasing power and influence. To target and serve further DSOs and to reach a broader population of patients, we established a dedicated global unit at Group level in 2017.

A LEADING POSITION IN THE FAST-GROWING NON-PREMIUM SEGMENT
The premium segment remains a key focus and we are determined to extend our lead in it through innovation, documented clinical research, differentiated comprehensive solutions, service excellence, high standards of training/education, a global network, and guarantees on original products.
At the same time, we see significant business opportunities in the non-premium market segment, which is growing faster and now accounts for more than a third of the global implant market in value. Many non-premium players are local or regional companies who compete on price without the high level of service, support, innovation and long-term assurance that are inherent to the Straumann brand. Our aim is to be a leading global player in this segment too.
Our strategy has been to build a portfolio of non-premium companies with growing footprints in key markets and to drive their international expansion. We continued the rollout of Neodent, our leading non-premium brand of progressive dental solutions, to further markets in Europe, which contributed to triple-digit growth in its international business. At the beginning of the year, we gained control of Medentika and have used it to offer attractively priced perfected prosthetics. We also began to establish Medentika as an implant company offering highly competitive enhanced alternatives to leading value players. These initiatives, together with the expansion of our Neodent business in Brazil, Zinedent in Turkey and Anthogyr in China have made us one of the fastest-growing companies in the non-premium segment, where we rank among the top three global players.
With our strong portfolio of fast-growing value brands, we decided early in 2017 not to pursue our strategic interest in acquiring a controlling stake in the Korean implant company MegaGen and received our CHF 30-million loan back with interest.


BECOMING A TOTAL SOLUTION PROVIDER IN ESTHETIC DENTISTRY
Our strategy to compete against heavyweight conglomerates that cover the entire dental spectrum has been to provide total solutions in tooth replacement – which means offering conventional, semi- and fully-digital tooth replacement solutions for all major indications. Thanks to our strength in innovation and the ability to form partnerships, we have filled almost all the gaps in our implant and prosthetic ranges and can also offer a full range of biomaterials as well as a wide-ranging portfolio for dental laboratories.
Perhaps our most exciting advances in 2017 were in the digital arena. Strategic partnerships with Amman Girrbach and 3Shape, together with our investment in RapidShape and the acquisition of Dental Wings, have enabled us to achieve the strategic goal of offering validated digital solutions that cover the full tooth replacement workflow, including guided-surgery, a choice of intra-oral scanners, a full CADCAM service, a Scan & Shape option, 3D-printing, as well as central, in-lab and chairside milling.
The strategic decision to broaden our scope led to our entry into orthodontics through the acquisition of ClearCorrect in the US, and a 38% participation in Geniova in Spain. The former is a well-established fast-growing provider of clear-aligner solutions which provides us with the technology, expertise and a strong footing in this field; the latter is an entrepreneurial pioneer of hybrid fast-aligners that gives us access to an innovative treatment approach. Both will benefit from our global network, brand, and digital technology. It is estimated that 75% of the teenage and adult population require orthodontic treatment. Clear-aligner solutions offer an alternative to conventional braces and brackets to address this need. Growing awareness, availability and esthetic needs are key growth drivers for the global clear-aligner market, which is estimated to be worth more than CHF 1.5 billion.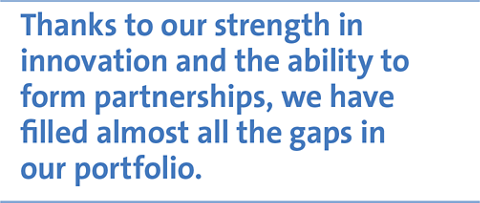 OUTLOOK
Our continuing strong growth and the fact that we have outperformed the market significantly confirm that we are executing an appropriate strategy. We have set the stage for future growth by entering new markets and the attractive field of esthetic dentistry. We have responded to market and technology trends by building digital capabilities and by devoting resources to the DSO segment. We will continue to be agile in seeking, evaluating and capturing attractive opportunities that are aligned with our strategic priorities, always vigilant of our changing market and environment and ready to challenge and adapt our strategy accordingly.